Waterside walks: Tour our most scenic shared pathways
Explore local waterways along the Central Coast's most scenic shared pathways...
From lakeside foreshores, picturesque promenades to beachside boardwalks, it's easy to take a self-guided tour of our region's beautiful waterways with this list of local routes.
Finding your favourite walking route is like finally locating a pair of jeans that fit like a glove. So if you're shopping for a new place to stretch your legs, take your pick of the Central Coast's most impressive network of shared paths everyone can explore any day, any time, for free!
Lined with hundreds of species of native flora and fauna, a foreshore walk is an easy way to reconnect to nature without getting lost on a rugged bushwalk. Promenade and esplanade coastal paths are the perfect way to traverse some of our most popular beaches, minus the sand. Some local paths are best suited to families, with playgrounds and public toilets conveniently dotted along the route. Some are perfect for dog walkies (and swims), while others are superbly accessible, following a well-planned trail for people of all abilities to embrace the great outdoors.
But the best pathways tick all the boxes, whether travelling on legs, paws or wheels, and we've collected them for your next outdoor adventure right here…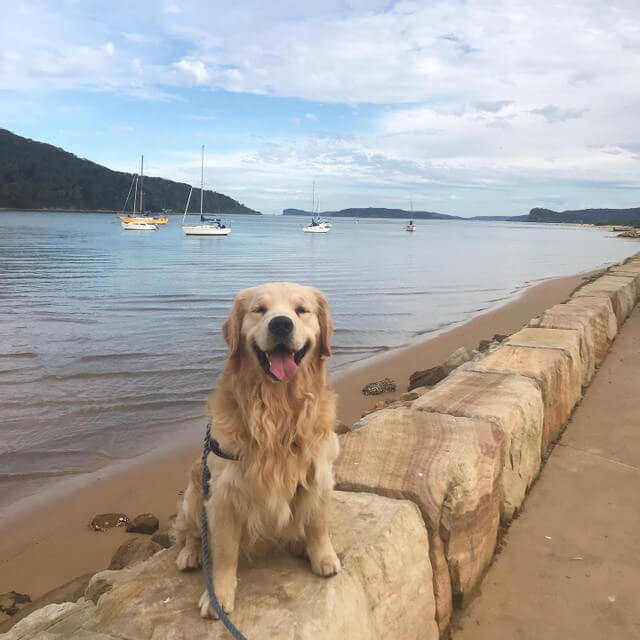 Ettalong Esplanade to Umina Beach walk
Style: Beachside fun
Level: Easy
Distance: 2.8km one way
Starting at Ettalong Waterfront, there is a wave of amenities to prep you for this beachside walk. The Box on the Water takeaway café, local ice cream parlour Helado, and epic smoothie bowl stop, Bowlz N Tingz, is on hand. You'll also find public toilets, a kid's waterfront playground, outdoor gym, and even bikes for hire at Ettalong Diggers. As this is a shared pathway, both walkers and cyclists are welcome to use the path. The entire route offers an incredible outlook to Broken Bay, taking in the Bouddi Peninsula, secluded Lobster Beach and Wagstaffe Wharf, extending to Pearl Beach, protected Lion Island and the greater Pacific Ocean.
Follow the footpath or take the adventure down to the sand, travelling through Ocean Beach and onto Umina Beach. Here you will find the Peninsula Recreation Precinct, a vibrant playground and sporting area for kids of all ages, with a great outdoor café serving fresh bites and pick-me-ups before your return trip. Both Ocean Beach and Umina Beach have Surf Life Saving Clubs along the way, perfect for grabbing a cold can or icecream treat if it's a sunny day out.
Feeling extra adventurous? Follow Umina Beach to its southern tip (often filled with friendly dogs in the off-lead zone) and venture a few minutes on foot up Mount Ettalong Road. You'll find Umina Point, a lookout offering a brilliant vista across all of Broken Bay.
Explore things to do in the Ettalong or Umina neighbourhoods
Image: @_walterthegolden via Instagram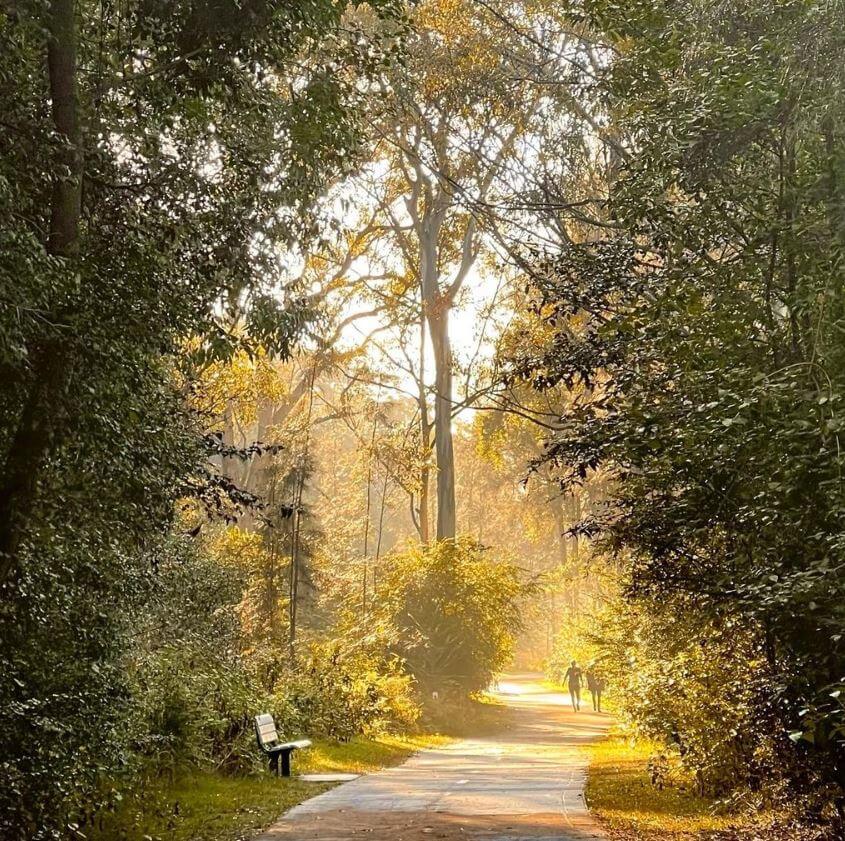 Kincumber to Davistown foreshore walk
Style: Historic waterways
Level: Easy
Distance: 3km one way
A stunning, flat walk that traces the Brisbane Water's edge Start your journey either at Kincumber's Carrak Road, or arrive by car, bike, foot or ferry at Davistown Ferry Wharf. Follow the shared cycle and footpath for roughly 3km (around 30-40 minutes one way) along one of the Central Coast's most historic waterways. Explore Kincumber Broadwater by walking the Kincumber Jetty, famously photographed by Danny Irvine and used on an Australia Post Stamp.
The path is completely accessible and pram-friendly, with one steel bridge along the track. There's a children's playground and public amenities at Broadwater Park, local cafes and pubs at both ends of the route, and four educational marquees along the way to soak up some local shipbuilding history since the 1820s.
Time your stroll with the monthly Davistown Waterfront Market at Illoura Reserve featuring a mix of foodies, makers and creators from the region, or look up the annual 4 Villages Shipbuilders Heritage Walk that follows Brisbane Water through the communities of Kincumber, Yattalunga, Saratoga and Davistown.
Image: @terri_d_photography via Instagram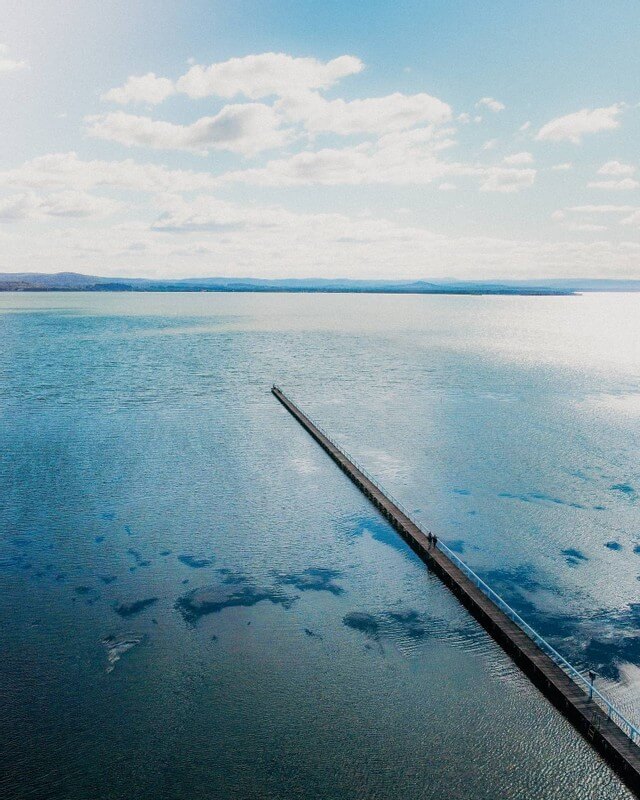 Long Jetty Foreshore Reserve
Style: Sunset wander
Level: Moderate
Distance: 3.6km total
The easiest place to start this walk is at The Long Jetty itself, near Archbold Road, with an essential trip to its tip jutting out in Tuggerah Lake. You'll be right near Thompson Street, with its vibrant 'Welcome to Long Jetty' wall mural, and several local cafes serving coffee and pastries to go.
Take your journey along the foreshore left or right along the lake from the Long Jetty foreshore park – aiming for either Saltwater Creek Reserve park (very popular with families) passing by Watkin's Jetty, or heading north on a scenic shared path through protected wetland to Picnic Point Reserve at The Entrance. You can't miss the abundance of native birds in the reserve, including resident pelicans often just chilling by the channel.
Image: @rabiaa_sharif via Instagram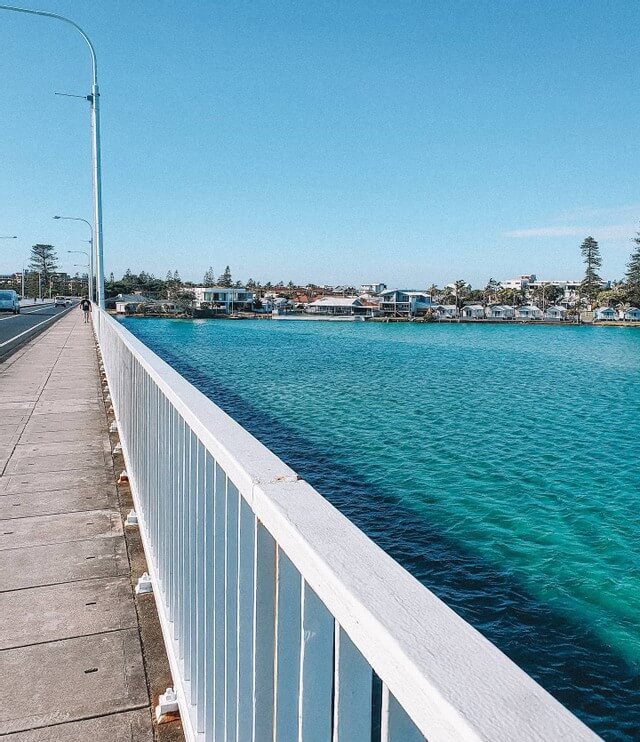 Coast to Lake Walk, Toowoon Bay to Tuggerah Lakes via The Entrance
Style: Family-friendly adventure
Level: Moderate
Distance: 7.6km
One of the most scenic outdoor walks on the Central Coast, the Coast to Lake Walk is an excellent way to explore the local beaches and lake with handy signs leading you along the self-guided route. The walk tours you through The Entrance, a major town of the region, with access to key attractions, ocean baths, lookouts, wetlands, picnic spots and public amenities, plus many venues to eat and drink with ocean views.
Starting at Memorial Park, you will head through Blue Bay, Toowoon Bay, and Long Jetty before finally looping back to The Entrance. Sections one, three and four are fully accessible to all abilities, prams and bicycles. Section two requires beach access and walking on rock platforms. There are creative detours available, such as heading north across the impressive bridge over the channel to Magenta. Being flat and family-friendly, the trail is easy to follow and you and the fam can travel on foot, bikes, scooters or skateboards.
Image: @sianhendo via Instagram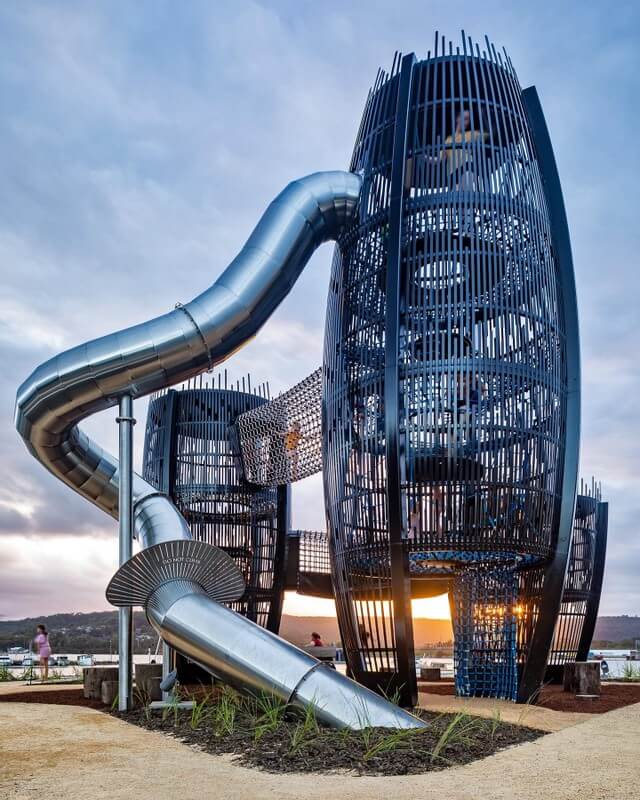 Gosford Waterfront and Carawah Reserve Boardwalk
Style: Explore the Coast's capital
Level: Moderate
Distance: 2.5km-4km
As the gateway to the Central Coast, Gosford offers a beautiful waterfront walking path that hugs Brisbane Water. Starting at either Point Frederick or Adcock Park, halfway along you'll also find the exciting, new Leagues Club Park by the water's edge. This playspace was designed in collaboration with the traditional land owners, Darkinjung, and features a tidal terrace that follows the natural ebb and flow of the tide, sandstone animal carvings representing nearby cultural indigenous carving site, Bulgandry, and three 'play pods' designed for unstructured play, climbing and exploration. The park is open to the public and accessible to all abilities.
Another gem along this route is the Carawah Reserve Walk in West Gosford, which you can reach via Garnet Adcock Memorial Park (also a convenient place to park and start this walk). Kids and adult adventurers will love exploring the interconnected wooden boardwalks and waterway viewing decks through the overgrown mangroves and marshland. Who will be first to spot a crab?
Image: @guywphoto via Instagram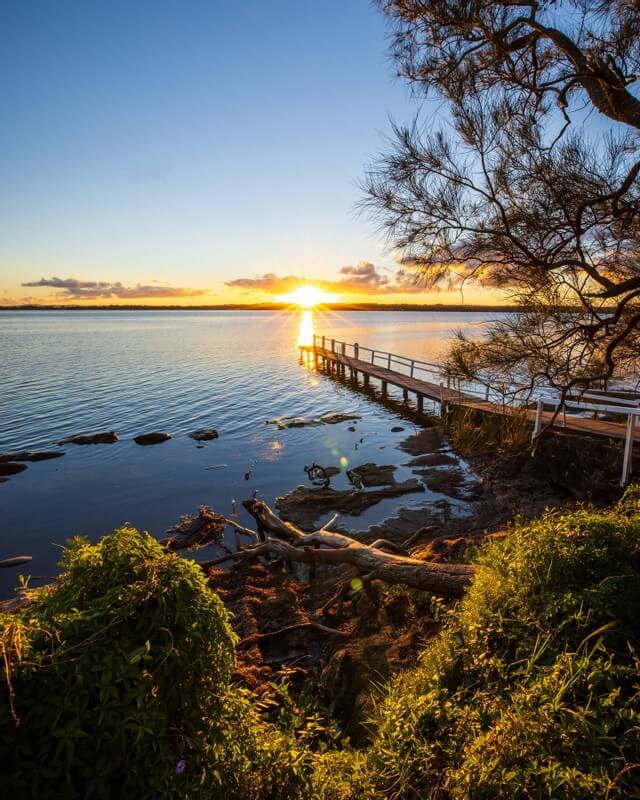 Buff Point and Budgewoi Lake Foreshore walk
Style: Lakeside love
Level: Moderate to lengthy
Distance: 5.4km one way
Budgewoi Lake Foreshore Shared Path is a 16.9km total distance – but you only need to choose a section to enjoy the benefits! This lakeside path hugs Budgewoi Lake, quiet neighbour of the popular Tuggerah Lake. We suggest starting your stroll at Slade Park in Budgewoi and hop over the bridge (grab some takeaway fish and chips first from Ocean Street if you're hungry), to follow the shared pathway along the foreshore in the direction of neighbouring suburb, San Remo.
Your destination is Edgewater Park in Buff Point, and along the way you will enjoy expansive views across to Toukley Bridge, several small bridges, a variety of local bird species, and a good dose of shade from surrounding trees. John Peter Howard Reserve in San Remo features a great playground and public BBQ facilities and picnic tables, so pack a tasty snack before walking back.
If you're a keen long distance walker, it is possible to travel further from San Remo around Budgewoi Lake, from Charmhaven bridge all the way to Toukley and Noraville – and this can be done almost entirely on shared pathways.
Image: @glengeasonphotography via Instagram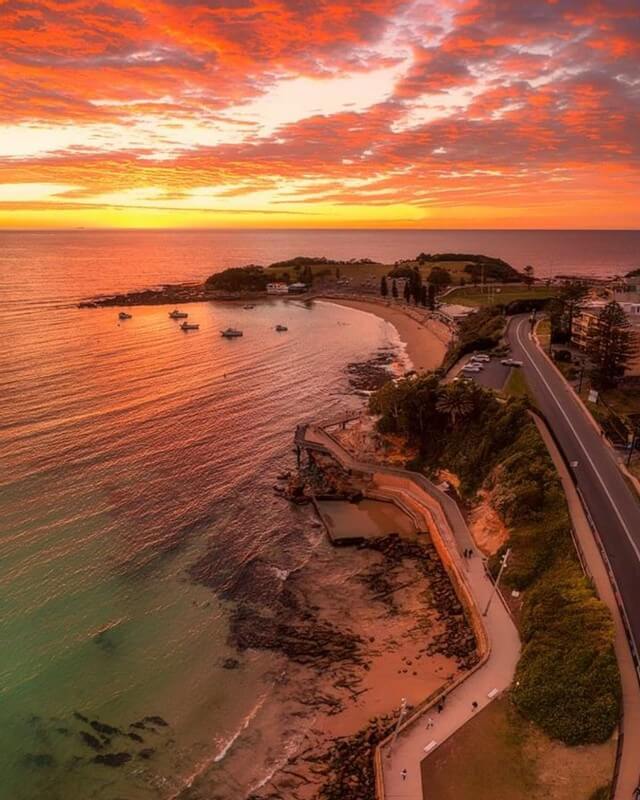 Terrigal Esplanade to The Haven
Style: Coastal boardwalk
Level: Easy to moderate (if you tackle The Skillion!)
Distance: 1.5km one way
Starting from the heart of Terrigal, at the War Memorial statues, gently stroll toward the rockpool at the southern end of the beach. This walk is one of the most iconic walks of the Central Coast, with Terrigal being a popular seaside playground town for decades, with many accustomed to walking up and over a steep hill to reach The Haven, a calm, reefy mini beach where children play and boats bob. But now things have changed.
There's an immaculately crafted, accessible wooden boardwalk connecting Terrigal's main high street and beachside promenade directly over the crashing waves to The Haven and its surrounding parkland. Whether you approach Terrigal Boardwalk at sunrise, sunset or high tide, one thing is certain – you will feel closer to the ocean than ever, with some great pictures to prove it!
When you reach The Haven, walk the outer perimeter all the way to the top of The Skillion, an incredibly rewarding rest stop where you may spot migrating whales from May to November, or playful dolphins at dusk.
Image: @jimpicot via Instagram
Woy Woy Wharf to Blackwall foreshore walk
Style: Waterway stroll
Level: Easy
Distance: 3km one way
This waterway adventure path starts at Woy Woy Wharf (ferries connect here to Davistown and Saratoga), just off The Boulevarde. Pass through the waterfront reserve featuring local pelicans, picnic tables, public toilets, showers, manicured gardens and even a tidal bath. Walk to Brick Wharf Road Waterfront and take the path by the water's edge to Lions Park, offering an amazing view to Riley's Island, and across one of the Central Coast's valuable waterways, Brisbane Water.  
The shared pathway meanders through reserve along Woy Woy's waterside community, ending at Macmasters Road in the neighbouring town, Blackwall. Time to loop back! When you finish your walk, seek out lunch at Woy Woy Fishermen's Wharf, which you likely spotted on arrival. This local business is a popular family-run fresh seafood spot serving the latest catch to visitors and locals for decades.
Feeling energetic? Bolt on a hike up to Blackwall Mountain Lookout - take the first right into Bayview Crescent for a short, sharp 15-minute uphill walk to tower over East Ettalong.
Image: @shotzbybruce via Instagram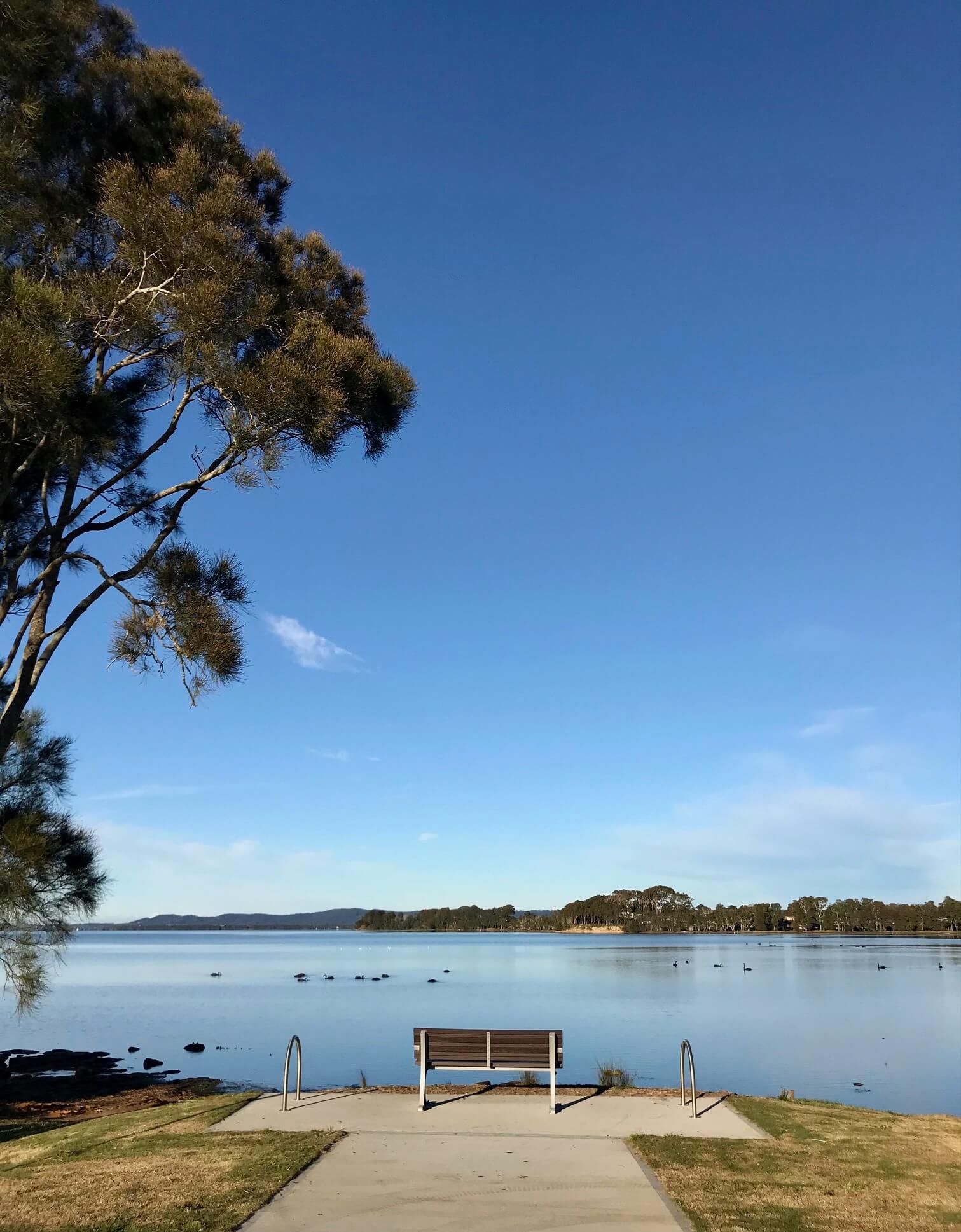 Tuggerawong Pathway, Tuggerah Lake Loop
Style: Community connection
Level: Easy
Distance: 2km one way
Test out your step count on a new (and already much loved) foreshore shared pathway connecting Tuggerawong and Wyongah to Don Small Oval in neighbouring Tacoma, northern communities of the Central Coast perched on Tuggerah Lake. The Tuggerawong Shared Pathway is a final section that completes the popular Tuggerah Lake Loop, offering immaculate views from the calm lakeside to the hinterland mountains hugging this area of the Coast. The pathway is a local labour of love developed in collaboration with local Council, and can be used by walkers, cyclists, parents with prams and those who use wheelchairs or other mobility aids. Start your walk at February Street, Tuggerawong to Prawn Beach Lane, Wyongah and back for a nice 4km jaunt along the lake edge.
Share the love
Do you have a favourite walk along Central Coast waterways we've missed? We'd love to hear about it. Simply contact us via email or feel free to message directly on our socials.
Don't forget – when sharing your love for local on the Central Coast, tag #LoveCentralCoast and mention us on Instagram and Facebook.