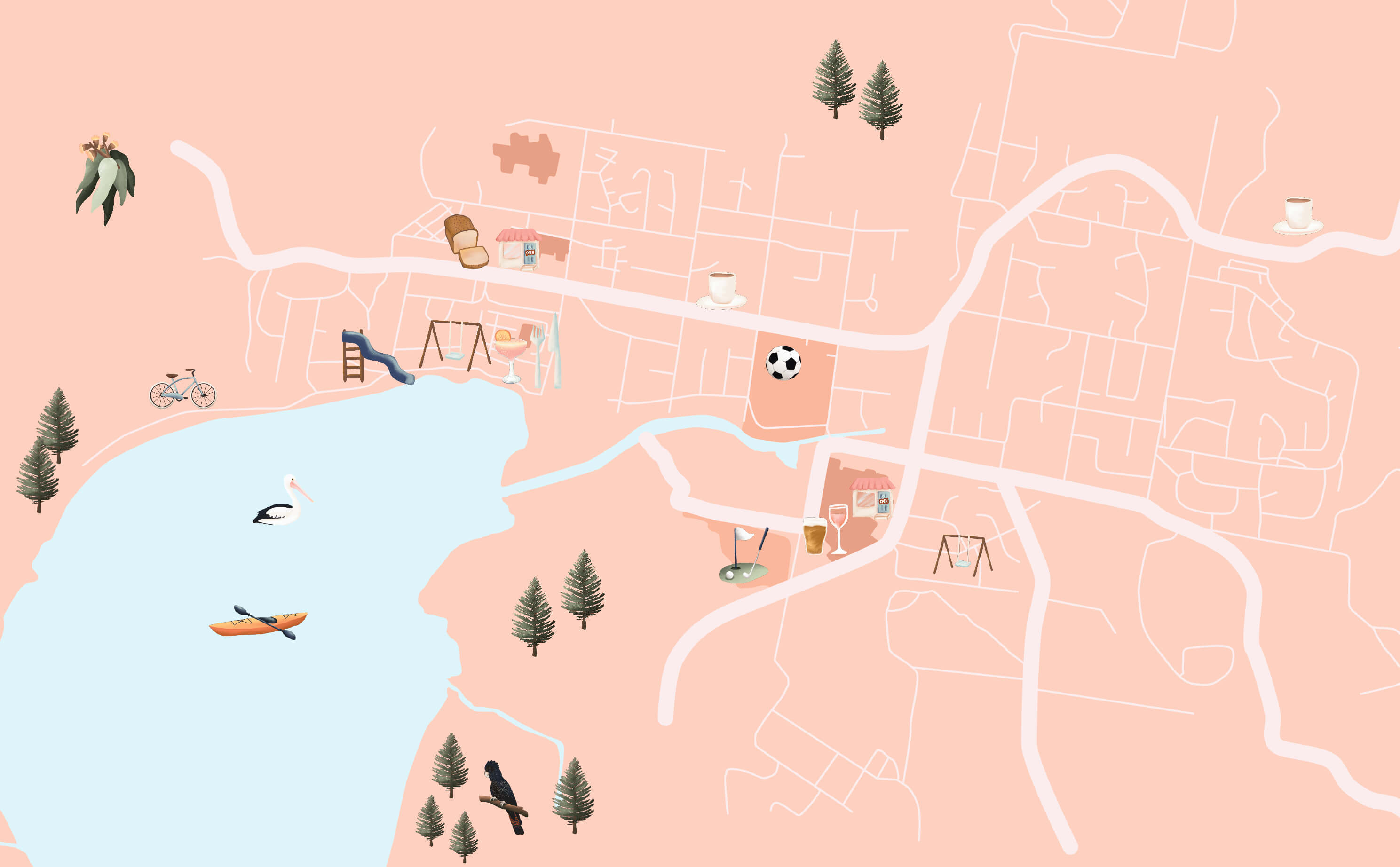 Kincumber snapshot
Get to know Kincumber
When it comes to convenience, Kincumber ticks all the boxes. The Central Coast's largest shopping centre, Erina Fair, is just 10 minutes' drive away, while Kincumber Village features a local green grocer, butcher, bakery, hairdresser, pharmacy and doctors surgery, alongside takeaway shops serving Japanese, Thai and Italian.
Kincumber has an old soul, but today you'll find exciting businesses and events bringing its historic post office, industrial street and churches to life. The ship building industry played a big part in Kincumber's early days, and the Central Coast's first two churches were both built here in the 1840s. You can also find axe-grinding grooves and carvings throughout its bushland reserve, highlighting the town's rich indigenous heritage.
The name 'Kincumba' is said to be an Indigenous word meaning 'toward the rising sun'. With its own mountain offering panoramic vantage points overlooking the vast coastline, Pickets Valley and Brisbane Water, it's easy to see why this spot was one of the earliest settlements on the Central Coast. From central Kincumber to Kincumber South, you're always just moments from outdoor recreation, adventure and local watering holes.
Kincumber Bucket List
What to do in Kincumber
1. Fuel up at the local Post Office
Whether you plan to have an active day out, or a relaxed brunch – drop by the charming outdoor courtyard of the Kincumber Post Café. This was actually the area's local post office from 1945 to 1990, now revamped to serve house-baked goods with a smile (one of the Coast's many dog-friendly cafés too). You will instantly feel like you've found a neighbourhood gem.
2. Hike or cycle up Kincumba Mountain
Kincumba Mountain Reserve is one of the largest preserved rainforests on the Central Coast – and you can have a family picnic right on top of it! The 700ha site is a mixture of rugged terrain with a designated picnic area at Honeman's Rock plus a unique mud-brick building from 1985, Kincumba Mountain Kiosk, which doubles as an intimate function space. Explore the reserve's trails to find caves, palm groves, wildflowers, Aboriginal carvings and axe-grinding grooves, then stop for a lunch break or family bbq. Don't miss the awesome views from Colin Watters Lookout, a rewarding end to a 2km ascent, or a short walk through bushland from the main mountaintop carpark.
3. Cochrone Street warehouse wonders
The industrial soul of Kincumber - courtesy of its shipbuilding heritage – is showcased in the quirky modern businesses operating from warehouse spaces on Cochrone Street. Stop by Looloo's Coffee Warehouse for a fresh brew, coffee beans and one of their incredible, buttery toasties. For a healthy kick, grab a nourish bowl from Bowlarama, another hidden local favourite. Run by Scott and Elle, this is the Central Coast's first 'bowl bar', with a menu inspired by plant-based ingredients and the island lifestyles of Bali and Hawaii, two of the owners' favourite places.
4. Playtime and pub feed for the family
Not only is Play Time at Kincumber Indoor Sports Centre a safe, colourful albeit hectic place for young kids to play (ages up to 7 years old), it's also perfect for rainy day entertainment. Kids can explore a range of inflatables, toys, cubby houses, swings and bike ramps within a large indoor space, and the handy Play Time Café sits on the sidelines for spectating parents. Cap off this daytime adventure with casual meal and drinks at the family-friendly Kincumber Hotel, featuring the Hairy Goat Craft Bar, bistro and outdoor play area (if the kids have any energy left!).
5. Scenic Drive highlights
Along the scenic coastal road that connects Kincumber to popular seaside towns Avoca Beach and Terrigal, you will find several boutiques and cafés worthy of a pitstop. Higher Grounds Café is a family-run business serving breakfast, lunch and dinner with exceptional views overlooking Picketts Valley. While visiting, explore local artworks at the adjacent Green View Gallery. Stop for a shop at La Boheme Boutique in its unique bush-based location on the Scenic Highway. Owners Renee and Stephanie sell a stylishly curated assortment of fashion, homewares and lifestyle items for the coastal connoisseur.
6. Cellar door tasting experiences
Kincumber has this funky warehouse thing going on, with a coffee warehouse, bowl bar, brewery and fine wine tasting venue all kitted out in local industrial spaces. Upstairs Wines is a boutique cellar door offering tastings, paint and sip events, plus a curated selection of craft wine, beer and locally produced spirits from Distillery Botanica. Taste a paddle of Central Coast brewed beer at Block n Tackle Brewery, named after the shipbuilding history of the Brisbane Waters region. The brewery space doubles as an event and live music venue, with trivia nights and Pie n Pint Thursdays.
7. Taste handcrafted European Gingerbread
The multi award-winning Adri's Gingerbread HQ calls Kincumber home. This means you can shop everything from hand crafted madeleines to meringues, granola to gingerbread. You'll spot Adriana's popular European Style Gingerbreads stocked at cafes and bars across the Central Coast, but if you order online you can easily pick up at their bakery base. Check out their DIY kits and holiday hampers that make ideal gifts.
8. Grab a pocket full of posies
The Petal Sisters, run by Bree & Hollie, create a mixed posy each Monday and Friday with market fresh flowers. More than a florist, they are a boutique lifestyle store on Avoca Drive selling artisan arrangements, fashion and homewares alongside floral styling for weddings, birthdays, corporate events and anniversaries.
9. Walk, cycle or skate Kinny's parks and reserves
Explore Kincumber Broadwater by walking the Kincumber Jetty, once made famous on an Australia Post Stamp with a photograph by Danny Irvine. Nearby there is a children's playground at Broadwater Park, with the picturesque waterfront walk that kids (or adults) can casually cycle along too. Kincumber is also a skateboarding hub, with two skating facilities – one in Frost Reserve and the other in South Kincumber recreation area.
10. Explore Davistown Waterfront
Kincumber is well connected to nearby Davistown, where you will find the elegant Dart and Feather restaurant and bar. Offering impressive views of the Cockle Channel and Brisbane Water, this modern dining venue and its seafood focused menu is ideal for a Friday night sundowner, often with live music. The views can also be enjoyed with lunch at The Ferryman adjacent to the Central Wharf, who also host Sunday Happy Hour – give the Davistown Southerly Buster cocktail a whirl. Don't miss the monthly Davistown Waterfront Market at Illoura Reserve featuring a mix of foodies, makers and creators from the region.
Explore nearby
Take a look at what is around the corner from Kincumber
One of the most appealing qualities of Kincumber is its central location to many of the Coast's popular seaside towns, including Avoca Beach, Terrigal, Copacabana and Macmasters Beach, all around 10 minutes' drive away. It's also an easy trip to Erina Fair, the largest shopping centre on the Central Coast, with restaurants, cinema, gym and ample parking available. Kincumber is located in a string of suburbs bordering Brisbane Water including Saratoga, Davistown, Green Point, Bensville, Empire Bay, St Huberts Island, Hardys Bay and Daleys Point – and of course Bouddi National Park. Nearby Davistown is also connected by ferry to Woy Woy, inviting you to take a scenic journey along the Coast's waterways with brilliant places to eat and drink at both ends of the trip.
A little taste of Kincumber...