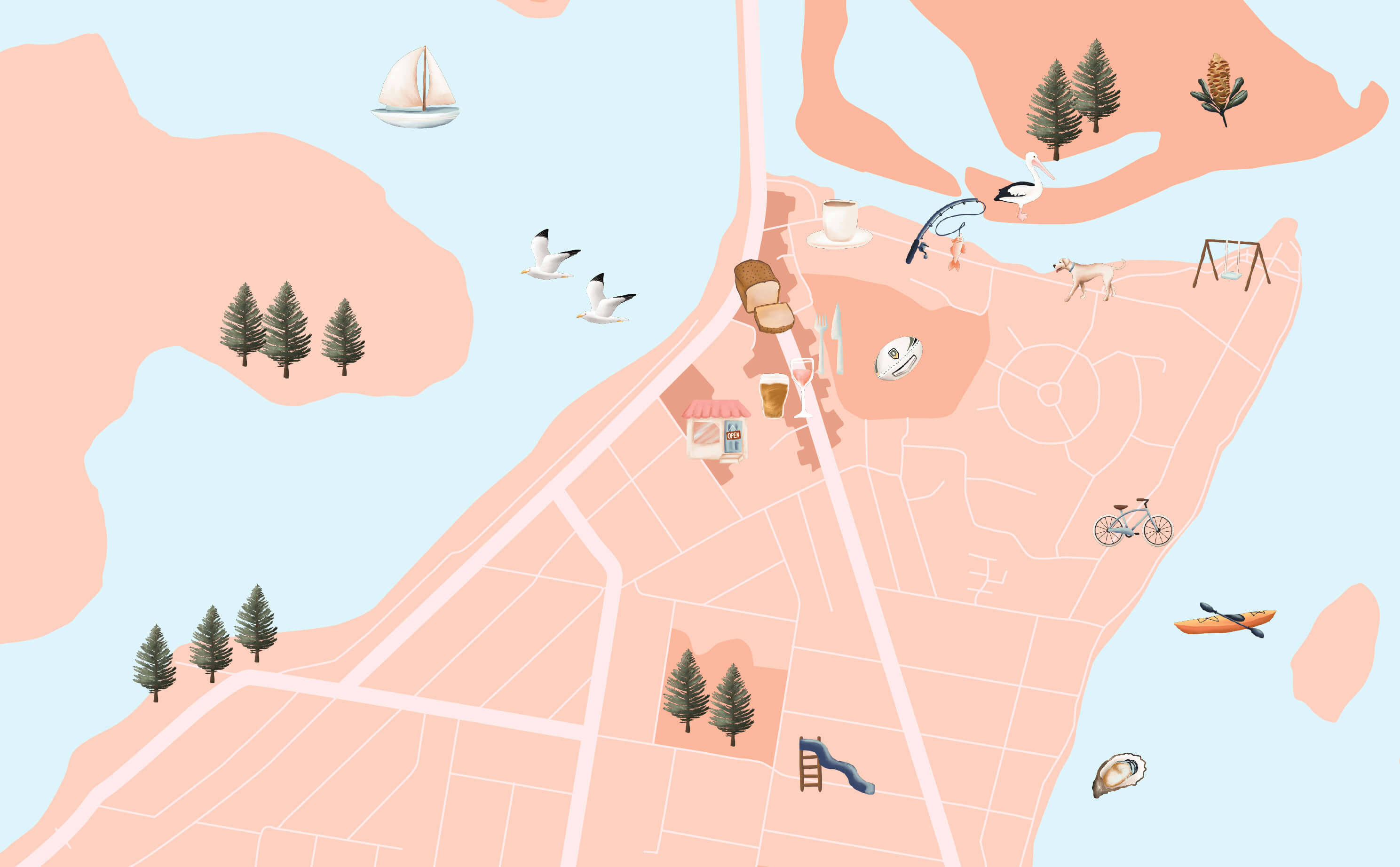 Woy Woy snapshot
Get to know Woy Woy
Just one hour from Sydney and Newcastle in either direction by train, Woy Woy is an easy pit stop for visitors to connect with other areas of the Coast, whether seeing friends, family, or enjoying a weekend seaside escape to the Coast. One of the best ways to approach this town is by driving down the scenic Woy Woy Road and taking a worthy stop at Staples Lookout to see the Central Coast open up before you.
The name 'woy woy' is said to originate from the Guringgai language, meaning 'much water' or 'big lagoon', believed to be a clear nod to surrounding Brisbane Water. Take a moment to stop on your drive down Woy Woy Road to visit the Bulgandry Aboriginal Engraving Site, sharing several thousand-year-old etchings of men, women, marine life, kangaroos and canoes.
Woy Woy offers a wave of old-world charm, from its classically styled pub, to the wharf and fishing boats bobbing in the water. In recent years, the town centre has started attracting modern dining and café options launched by young entrepreneurs. Offering quality menus inspired by local produce and international cuisine, served in bright, inviting spaces, Woy Woy holds exciting potential for creative business minds. 
Woy Woy Bucket List
What to do in Woy Woy
1. Visit the Gnostic Corner
Start at the corner of Opal Avenue with breakfast at Gnostic Mana Café, with plenty of seating and a fresh menu. Shop at the Gnostic Corner for all things wellness, and Gnostic Forest and Gnostic Bunch for spiritual crystals, books, ornaments, incense and clothing that aims to share love and a sense of mindfulness with the community.
2. Enjoy fresh seafood, your way
Whether you're in the mood for a fancy dine in seafood lunch with oysters and a glass of rose wine, or a casual waterfront fish and chips with the freshest local catch – head to The Boulevard. The award-winning Woy Woy Fisherman's Wharf offers a stunning, modern restaurant serving the freshest seafood on the Central Coast for over 40 years. The outdoor seating at this place is the perfect spot to watch the local pelican colony, fisherman at work, or kayakers paddling by. For a casual alternative, pop across the road to Pelicans Restaurant for easy pub grub. Drop by D & L Witchard fresh local seafood outlet to take home some of the best catches from local waterways.
3. Pizza parlours with a twist
Dinner at Tropicana Social Club is a step back into the retro eras of yesteryear. Try their loaded Sicilian, US or British Sunday Roast inspired pan pizzas, best enjoyed with a craft beer or wine while 80s and 90s smash hits pump out the speakers. Nearby you also have Young Barons Food Store, the authentic Italian brainchild of two talented local chefs in their early twenties. This European-inspired shopfront serves delicious homemade pasta (including Nonna-style lasagne) and gelato that is quickly gaining a reputation on the Coast. If you're passing through Woy Woy on your drive to the Peninsula, Umina Beach or over Mt Ettalong to Pearl Beach or Patonga, pluck a few pantry essentials from Young Barons Food Store shelves.
4. Workout at the Peninsula Leisure Centre
The Peninsula Leisure Centre is the only facility of its kind on the Central Coast, offering a range of modern aquatic facilities for the whole family, or enjoyed solo as part of your weekly workout. The centre has a children's party room, crèche, café, barbeque and picnic facilities, therapy pool, spa, sauna and steam rooms. So essentially, everything you need to get that beach body ready!
5. Wind down with golf, bowls, dinner and drinks
Find everything you would expect from a country club at Everglades. Choose from tackling an 18-hole golf course, to catching live entertainment on their green, or enjoy fresh coffee at their on-site café, or family-friendly dining at ALTRO restaurant. The Everglades Country Club is designed to make your weekend at Woy Woy simple and sociable, with an everchanging calendar of events.
6. Trackside coffee and secret hideaways
Where there is a train station, there should also be good coffee for the voyage. Local café, Link and Pin get this, and launched a coffee shop inspired by the connective mechanism of railway carriages, (a link and pin). The team have founded somewhere to embrace Woy Woy's old world charm – simply enter via the red door on Railway Street, or red gate on Blackwall Road and take five in their secret garden. Tucked along Ocean Beach Road is also Expresso Martine, a converted shipping container café serving single origin coffee, takeaway wraps, toasties and sweet treats.
7. Brisbane Waters ferry tour
Hop on a daily ferry ride from the newly redeveloped central Woy Woy Town Centre Wharf and cruise through the Brisbane Water channels with Central Coast Ferries. The conscious traveller can enjoy that the new wharf has been constructed with decking made from recycled plastic, that there is solar lighting along the pontoon, covered gangway and passenger shelter, and that there is smart bench seating with mobile phone charging capabilities. The accessible traveller can feel assured that the floating pontoon has ramps and a wheelchair lifting facility.
There are also History & Heritage Tours available early mornings, exploring the waterways to Empire Bay, Davistown and Saratoga. Check the ferry timetable to plan your trip in advance. If you take a tour that stops at Davistown, visit The Ferryman near Central Wharf, and give the Davistown Southerly Buster cocktail a whirl.
8. Rooftop cocktails over Brisbane Water
A hidden gem of Woy Woy sits atop The Bayview Hotel, set up by a pair of successful local restaurateurs who brought their Big Apple talent to the casual social scene of Woy Woy. Discover the simple joy of afternoon drinks at Frankie's Roof Top Bar with Japanese-inspired snacks and a colourful cocktail menu, or pop downstairs for a pub feed at The Bayview Hotel, serving icy cold beer on tap and schnitties by the kilo in their outdoor beer garden or old-world bistro.
9. Waterfront walk and picnic
From Memorial Park near Woy Woy Wharf, take a stroll along the scenic Woy Woy waterfront. The recently restored War Memorial is almost 100 years old and surrounded by beautifully maintained gardens. Follow the waterside shared pathway to the tip of land that pokes out into Brisbane Water – Lions Park. As a popular route for local runners, this green reserve has fantastic views out across to Rileys Island, with excellent public bbqs and amenities. You can easily launch a kayak from the boat ramp, and if you fancy a cold one, the local bowling club is just around the corner. If you feel energetic, follow the path around the point heading south for a glimpse of the iconic Rip Bridge and Pelicans Spot nature reserve.
Explore nearby
Take a look at what is around the corner from Woy Woy
Woy Woy is connected by road, rail and water to surrounding suburbs including Koolewong, Blackwall, Booker Bay, Davistown and Umina Beach. It conveniently sits along the Central Coast's stretch of trainline connecting to popular stops north including Gosford, Ourimbah and Wyong, plus southern stops such as Hawkesbury River and Hornsby. From Woy Woy, you are never more than a few minutes drive to Umina Beach, a local favourite during summer with calm waves and excellent SUP opportunities. Bouddi National Park is also accessible, located on the other side of Brisbane Water just 8 km from Woy Woy, with the Box Head Track being a favourite for panoramic views as far as Sydney.
A little taste of Woy Woy...