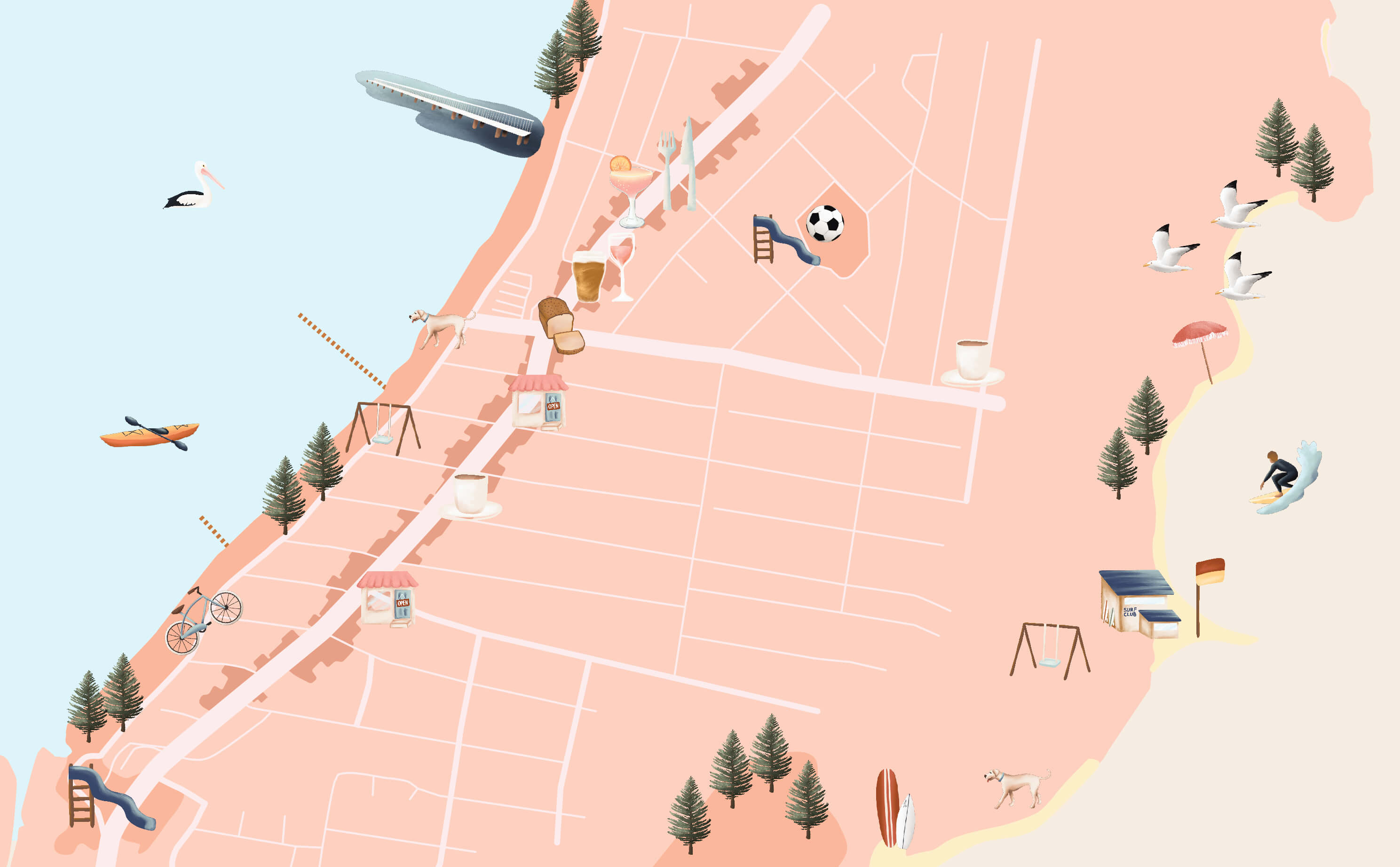 Long Jetty Snapshot
Get to know Long Jetty
Framed by The Entrance in the north, Tuggerah Lake to the west, Toowoon Bay and Shelly Beach to the east, and Bateau Bay and Killarney Vale to the south, Long Jetty is the epicentre of everything to love about the Central Coast lifestyle – beach and lake, art and fashion, bakeries and bars, cafes and culture.
The town centre, a stretch along The Entrance Road, is a showreel of unique art, design, fashion and antiques curated by local makers, creators and collectors. It's also the HQ for global sustainability movement, Take 3 for the Sea. An entrepreneurial hub, Long Jetty has a progressive crowd of young people who crave those quirky Newton vibes by the sea – minus the big city buzz.
Long Jetty is a mix of lakeside residential streets branching off to the foreshore, alongside its main street featuring a collection of boutique shops, contemporary gallery spaces, modern cafes and gig spaces, one old school pub, one WWII cinema, vintage op shops and quirky businesses found nowhere else in the region. It also has three jetties that inspired its namesake - Parry's Jetty, Watkin's Jetty and The Long Jetty.
Long Jetty Bucket List
What to do in Long Jetty
1. Discover THE Long Jetty
At the end of Archbold Road, you'll discover exactly how this town got its name. Walk the entire 351 metres (a 700m round trip!) of The Long Jetty, which stretches out into Tuggerah Lake, and spot wetland wildlife along the way. Built in 1915, it's most popular at dusk when the pink, purple and apricot hues of a Central Coast sunset create one of the most beautiful photo opportunities in the entire region. Too busy? There's two more to choose from along the path.

2. Café crawl the trendy high street triangle
The central intersection of Long Jetty features three incredibly unique cafés that each double as a bakery, gallery or gig space, and yoga studio. The Glass Onion Society offers mismatched vintage seating that spills out kerbside, complete with a modern brunch menu, gallery space for local artists, and alternative music venue. Grab a table at Green Tangerine beside the famous 'Welcome to Long Jetty' mural, and browse their fresh brunches, sweet treats and handmade bread (prepared using traditional French baking methods). Modern Organic merges café culture with an onsite yoga studio, allowing you to stretch your mind and body before enjoying a smoothie bowl in their secluded outdoor courtyard.

3. Browse unique boutiques and vintage treasures
Shopping at Long Jetty is a dream for fans of vintage and coastal style. Start at the stunning A-framed building housing Shadow Bang Apothecary and Supply, who sell boutique clothing, rugs, jewellery, organic tea, essential oils and natural wellbeing products plus a pick-your-own dry flower bar. Plain Janes, run by sisters Amelia and April, sell popular labels like Nude Lucy, Assembly Label and Levis alongside their curated collection of shades, flowers and ceramics. Move on to Sadie Lou, a small boutique featuring beautiful daywear characteristic of the seaside, and dress your babes in style with a visit to Tiny Folk Co. Don't miss the local vintage gems Sorry Grandma for retro, Sound Exchange for vinyl, and Long Jetty Vintage (find it near the black panther mural).
4. Play your part in the local art scene
Visitors are welcome to explore the Grant Malony Gallery, part of the Lucky Surf & Supply Store. This unique spot is part surf shop, part workspace and part café (they do bottomless batch!). Not only can you spot Malony's whale motifs across the Coast, but you can also catch his nature-inspired work in progress at this studio, doubling as a hub for the local art community with featured exhibitions. Paint a tropical sunset, whale or mosaic at Exhale Art Studio and bring along your favourite bottle of wine to enjoy at their 'Paint and Sip' evening sessions.
5. Take the Coast to Lake Walk
The best way to explore the area on foot is this signposted scenic trail from lakeside Long Jetty to seaside Toowoon Bay. The Coast to Lake Walk is an easy, self-guided route connecting you to local attractions, landmarks, and public amenities around The Entrance and Long Jetty peninsula, covering 7.6 kilometres. Not much of a walker? Explore the shared pathway on two wheels with Boomerang Bike Hire located at The Entrance Visitor Information Centre and near the famous Pelican Feed boardwalk.
6. Sips and snacks in a 1950s retro theatre
The Savoy was first built in 1956, the Golden Age of the screen, and after a seriously chic makeover it stands today as a trendy bar and restaurant that still screens films in its historic cinema space. Serving craft beers, cocktails and quality pizza, this is a stylish spot to meet for drinks, catch live music or watch classic movies in their tiered lounge area. Private group experiences are also available, complete with your own designated waiter!
7. Experience international eats
Start early with a visit to Bali or Hawaii at Bowlarama, serving plant-based smoothies and bowls reminiscent of what you'd enjoy on a tropical island paradise. For lunch, venture to Japan with Yasaka Japanese Dining, serving sashimi, Agedashi tofu and ramen to this end of the Coast. Or try Kaino's Seafood and Burgers, serving home-made lunches with a middle eastern influence. Wrap up your tastebud tour in Mexico via Hernando's Hideaway, a favourite restaurant for locals featuring tapas-style Mexican classics with a twist, such as their chickpea tacos. For a spicy alternative, pop in to Jolly Good Indian Restaurant, a long-standing local takeaway headed up by restauranteurs Raj and Raki.
8. Family BBQ on the Foreshore
A beautiful span of green space lines the eastern foreshore of Tuggerah Lake. Long Jetty Foreshore Reserve features a shared pathway designed for strolling, cycling, skating or jogging, and hosts the Shelly Beach Markets on the last Saturday of the month. Grab a picnic spot by one of the lakeside public BBQs, with three long jetties and a children's playground to explore before the family spread is served.
9. Visit the Coast's plant-based studio
Harbouring a plant obsession? With an aim to bring the outside in, Cass and Stef opened Mowgli Studios on The Entrance Road. As the original creators of the 'Lucky Rainbow' pot, their unique shop sells handmade and hand-painted pots, sculptures and wilderness-inspired homewares with a collection of tiny to terrifically large indoor plants. For the full experience, grab a spot on one of their future workshops in wreathmaking or pot planting.
10. Long Jetty street photography
In addition to capturing a sunset shot at The Long Jetty, a colourful photograph of yourself at one of Thompson Street's famous painted wall murals is an essential part of the Long Jetty experience. The vibrant 'Welcome to Long Jetty' mural is extremely Insta-worthy, collectively created by artists Dan Coy, Brent Smith and Nathan Pickering.
Explore nearby
Take a look at what is around the corner from Long Jetty
Long Jetty's central location grants it a long list of nearby hot spots, most just a few minutes away. Visit The Entrance where the famous daily Pelican Feed takes place. Terrigal is a short drive away, a popular spot for beachside brunch, bars and boutiques. Long Jetty is also the heart of a collection of small seaside villages including Bateau Bay, where professional renovators Kyal and Kara call home, surfer's haven Shelly Beach, and popular foodie stop and SUP paradise Toowoon Bay . Within minutes you can also reach Wyrrabalong National Park and climb to Crackneck Point lookout, or walk the Lillypilly or Redgum loop trails for a panorama where lake greets ocean.
A little taste of Long Jetty