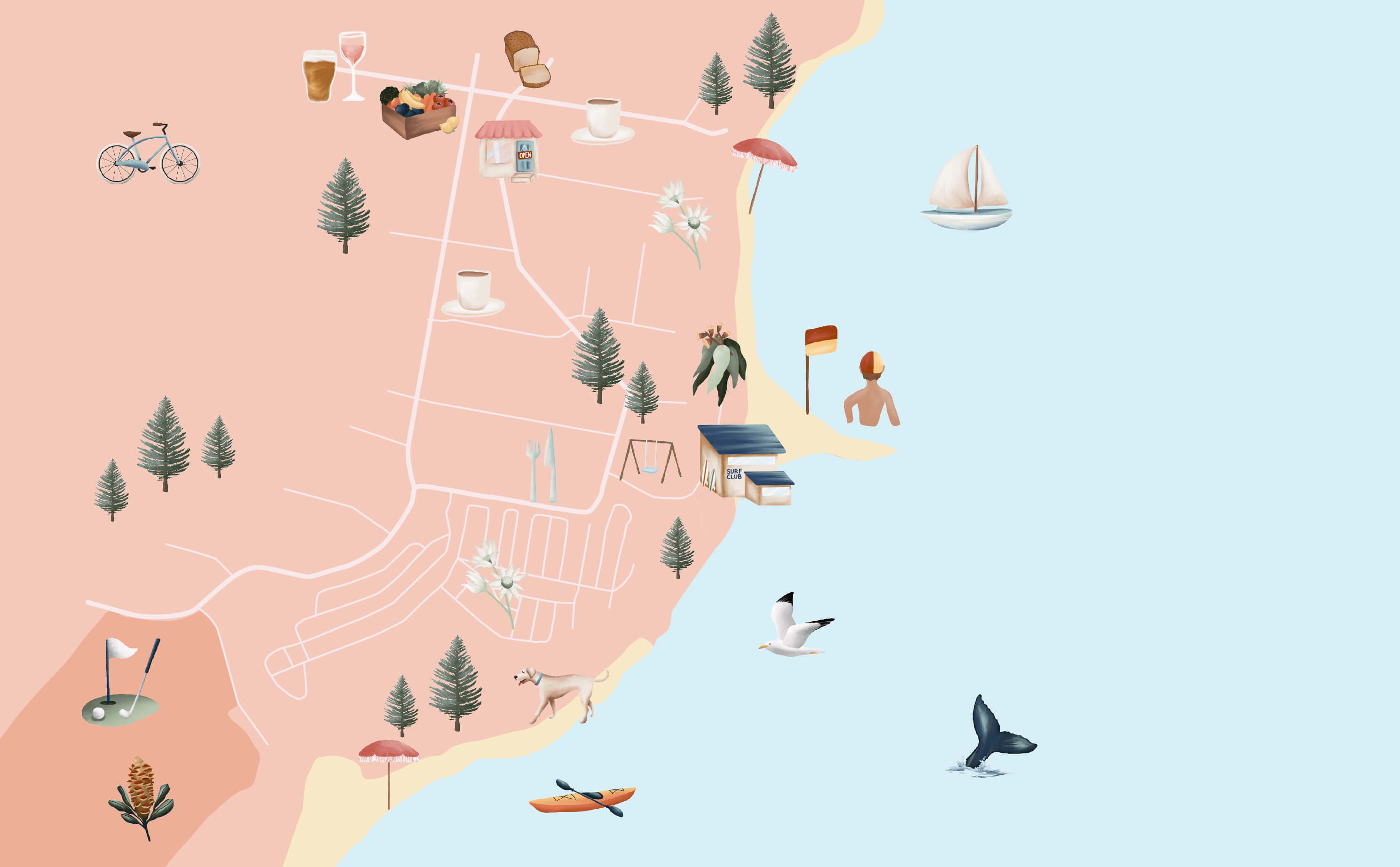 Toowoon Bay snapshot
Get to know Toowoon Bay
Toowoon Bay may be modest in size, but it's a colourful hub for those who love good coffee, good cuisine, and good vibes by the sea. This friendly neighbourhood links easily to Shelly Beach for surfing, Bateau Bay for picnics in the bush, and Blue Bay for exploring rockpools. Its mix of family run cafes, small businesses and the calm waters of its patrolled horseshoe bay will give you the perfect taste of the Coast's laidback lifestyle.
BEACHES
Toowoon Bay – all 700m of it – is your go-to beach for water activities that require calm conditions, like stand-up paddle boarding, snorkelling or generally splashing about with the kids. Fishing is possible from the rocky reefs at both ends of the beach, and to the south sits Little Bay Beach with gentle, rolling waves.
Venture just minutes south to reach Shelly Beach for some of the Central Coast's best surfing opportunities with excellent vantage points to scout the conditions with a coffee. Bateau Bay is also just a few minutes from Toowoon Bay, a beautifully secluded and safe beach framed by Wyrrabalong National Park.
EXPLORE
The Central Coast is a paddler's paradise, with the flat waters of Toowoon Bay carving a perfect spot to hone your SUP skills. Whatever your level, hire a board and get some essential tips from Central Coast Stand Up Paddle Boards based at Toowoon and also The Entrance.
Just around the corner from Toowoon Bay sits another small hamlet, Blue Bay, offering a beautiful selection of rock pools, golden sand and, as the name suggests, invitingly blue water. You can also follow the coastal path north on foot to reach The Grant McBride Baths at The Entrance.
Swadling Park is a charming little green space for a sunny day picnic, complete with free barbecue facilities and a children's playground.
EAT & DRINK
A range of creative locals call Toowoon home, many of them showcased in the unique eateries that line the small shopping hub of this neighbourhood. The best part? You can easily walk to all of them!
Start your café crawl with a fresh fruit smoothie from Bay Organics; their banana salted caramel smoothie bowl is unmissable. A few doors down pop your head into Flour & Co  to grab a brekky burrito before they sell out as all the local surfers refuel. This bakery has been a family run business for over 30 years, now co-owned by local photographer, Grace Picot, daughter of renowned travel photographer Jim Picot.
Next up, take a leisurely stroll from Toowoon's main street to catch some art alongside a slice of something sweet at the Two Birds Gallery Cafe.
The Blue Bay Store is a quirky café set up featuring decorated church pews for seating and old Singer sewing machines as tables.
When you're seaside, sometimes only fish and chips will do. Whether you choose chicken salt or vinegar, calamari or scallops, Bay Takeaway or Saltwater Takeaway on the main street of Toowoon will wrap up this craving for you. The Village Kiosk is perched right on the sand, their coffee and brunch offerings make early morning beach swims even more enticing.
For the evening, you can choose from a variety of seafood themed menus. Cecilia's Restaurant & Wine Bar is a classy venue under the creativity of respected Head Chef Adam Viner. Cecilia's serve small, elegant plates, bringing quality dumplings and Japanese Ramen to the Central Coast.
The Bay Cafe offers fresh seafood alongside Australian outback BBQ dishes, a spot for dedicated carnivores. While Ocean Restaurant in Blue Bay has impeccible sea views while you dine, alongside an progressive seafood cuisine. If you watch closely in between courses, you may spot a dolphin.
SHOP
Two Birds Gallery Cafe on the corner of Bay Road and Pacific Street is more than a café serving an all day food menu – it doubles as a boutique selling uniquely beautiful curated range of art, homewares and gifts. If you need to stock up on grocery essentials, the local Toowoon Bay General Store is on hand to help you out.
STAY
Choose from holiday parks, beach houses, boutique hotels and luxurious coastal retreats that have earnt a strong reputation for their effortless style. One such place is the family-run Kim's Beachside Retreat, offering century-old beachfront accommodation.
Another popular option is Toowoon Bay Holiday Park, ideal for families and seaside comfort. Be swift and plan ahead, as the matchless location and quality of this park attracts quite the crowd in peak seasons.
Pretend you're living the Palm Springs life, if only for a weekend, at the Nest at Blue Bay, within walking distance from Toowoon Bay and complete with artfully designed features and detailing.
EVENTS
In between running annual Nipper events and community water-based activities, the local Toowoon Bay SLSC is also a beachfront venue with hall hire for weddings, workshops and special occasions – the balcony space offers stunning views out to the horizon. 
Central Coast Truffle Festival places three local restaurants against one another to produce the best truffle-infused dish, with Cecilia's Restaurant & Wine Bar being one of the competitors. Keep an eye on what's in store for the next event, held over one month in winter.
NEARBY
Toowoon is easily connected to a handful of neighbouring suburbs including Blue Bay, Shelly Beach, Bateau Bay and Long Jetty. You'll find the Long Jetty Foreshore Reserve by Tuggerah Lake is a lovely spot to jog, cycle, picnic or BBQ, with 'The Long Jetty', the region's hero place to capture a magnificent sunset. And for the pub quiz enthusiasts, it's also the longest jetty in New South Wales.