Open for business: 11 new places to explore on the Central Coast
Explore the latest ventures to launch on the Central Coast with our weekend-ready guide. Don't miss sampling these exciting new businesses before the rest of NSW discover them.
Visit an unexplored town to tour beyond your routine. Try a new menu sourced from our hinterland. A new beachside venue. Studies show the more often you try something new, the greater your levels of happiness and motivation to explore! Exploring something new could be as easy as taking a last-minute road trip to the Central Coast.
To help your planning, we've collected a handful of tempting new cafés, restaurants, bars and exciting drawcards that launched in our region recently. Each venture has opened for business despite the challenges of this year. We're inspired – but we're also hungry! Let's dive into what's new in the local Coastie scene…
Sweet treat pick-me-up at Bouffant, Gosford
Experience the Willy Wonka-esque vibes of Bouffant in one of Gosford city's heritage listed buildings. Step inside to inspect the huge array of sweet, freshly baked pastries lined up in neat rows (choosing just one is impossible!). Bouffant launched late July, with delicately handmade cakes, croissants, snails, muffins, cruffins, pastel de natas and doughnuts alongside quality coffee. Promising "fluffy goodness" to everyone who wanders in, this new project is led by Andrew Mansfield and in-house Spanish patisserie chef, Markus (the talent behind Ooomph and The Bakery at East Gosford).
A great feature of this new pretty-in-pink spot on the Central Coast is the fact it's open from 6am to 6pm, every day of the week!
DON'T MISS: Their $5 Coffee and Croissant Deal
Discover more about Bouffant or follow them on Instagram and Facebook.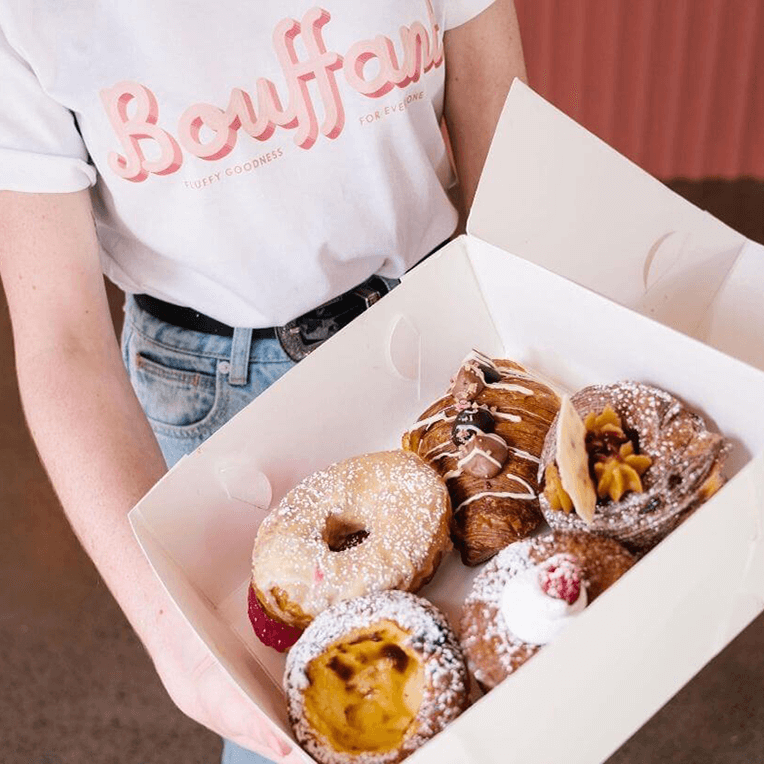 Artisan produce at Young Barons Food Store, Woy Woy
The Central Coast hospitality industry has no doubt suffered in the unfolding pandemic, causing many customer-facing businesses to close their doors. However, several of our restaurants made an innovative transition from dine-in to takeaway-only. A great example of this resilience is Young Barons restaurant in the town of Woy Woy. Recently relaunching as 'Young Barons Food Store', the owners have created a European-inspired shopfront serving the same delicious housemade pasta (including nonna-style lasagne), and gelato that has gained them a reputation on the Coast. The store also sells a selection of small producer wines, alongside essential pantry products. This new daytime setup means you can now stop by for a casual breakfast, brunch or quality coffee, as they are just a few minutes from Woy Woy train station.
If you're passing through on your drive to the Peninsula, Umina Beach, or over Mt Ettalong to Pearl Beach or Patonga for the weekend, pluck a few favourites from Young Barons Food Store shelves to fill your bnb cupboards with some delicious essentials.
DON'T MISS:  Their housemade Tiramisu.
Discover more about Young Barons or follow them on Instagram and Facebook.