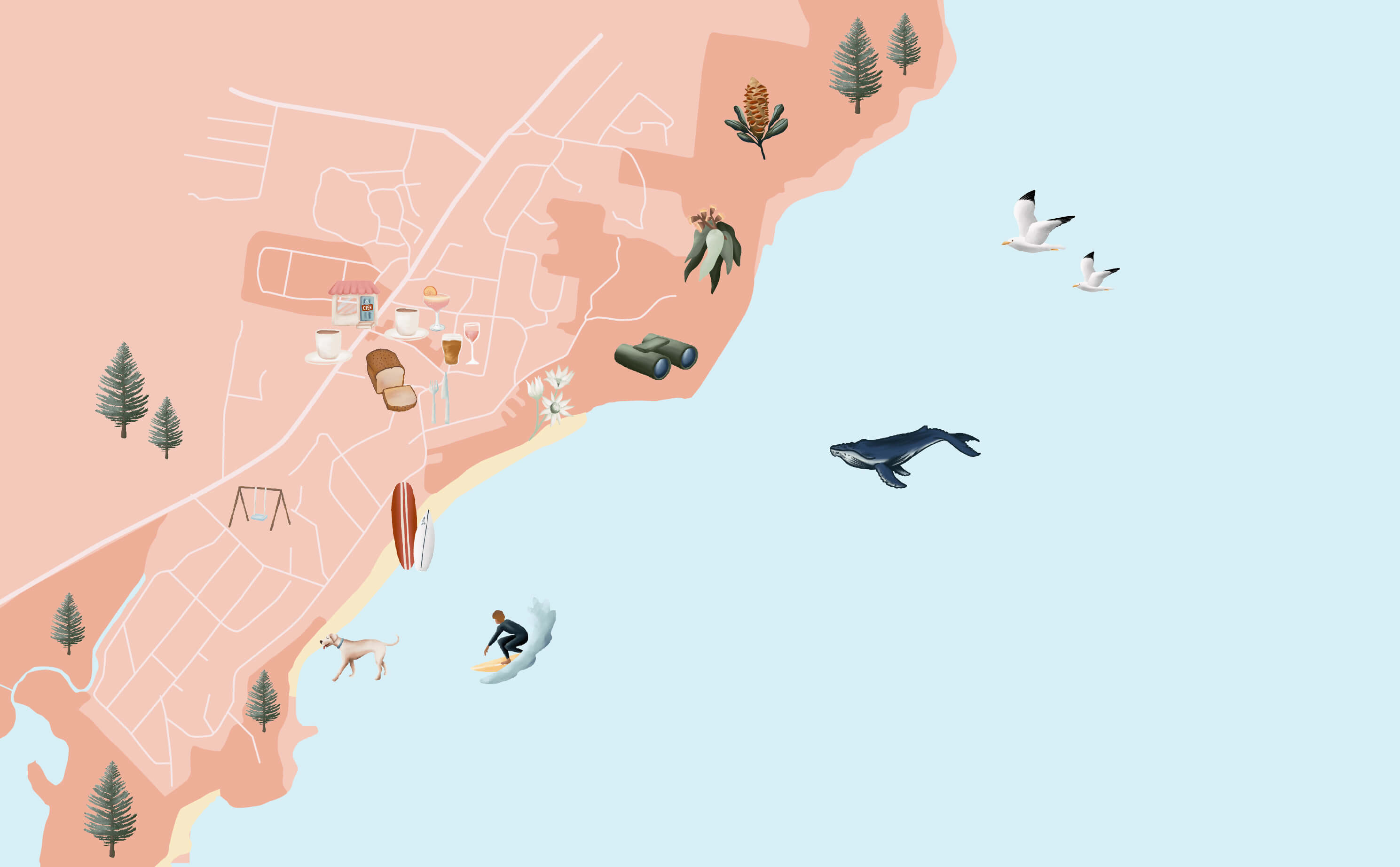 Forresters Beach
Description
Forresters Beach, or 'Forries' as the locals call it, is a coastal neighbourhood located between Wamberal and Bateau Bay. This coastal community is surrounded by a mix of quiet residential areas, a stunning walking trail through Wyrrabalong National Park, plus its own undeveloped beach offering a cracking surf break, rock pools and the hidden Spoon Bay tucked around the headland.
Forresters Beach snapshot
Get to know Forresters Beach
Forries is home to a cluster of gorgeous, friendly small businesses including a lifestyle and homewares boutique, beauty therapy, cafés, restaurants, takeaways, pizzeria and bakery. All these little local spots are ready for you to explore just minutes from the beach itself.
Beach
The beach, from which the suburb lands its name, is the heart of the neighbourhood. The reef breaks make it a popular surfing spot and the rock platforms draw in the fishing crowd and rockpool explorers. As a bonus for those with a fur family, Forresters is a dog friendly beach with designated off-leash areas, so your doggo can enjoy the sea air with you. Unlike many neighbouring beaches, Forresters Beach is not patrolled by Lifeguards year round, so swim safely and respect the ocean's power, aiming for the southern end of the shore if you're a bit unsure as it's calmer here. If you're keen to dive headfirst into the local surfing community, Forresters Beach Board Riders is an active organisation that welcomes wave huggers of all skill levels.
Explore
Wyrrabalong National Park, which features sandstone coastal cliffs and bush filled with blackbutt, spotted gum and coastal banksia, makes up a large portion of Forresters Beach. Head to Wyrrabalong Lookout for an incredible view across the Pacific ocean.
There is arguably no better place to take in a vista of the local coastline than at Crackneck Lookout, ideal for whale watching and paragliding. You can access the lookout on foot along the breathtaking Coast Track bush walk starting at neighbouring Bateau Bay. If you're taking lunch with you, drive and park at the top of Cromarty Hill Road where it's only a short walk to picnic tables and public BBQ areas.
At the end of Forresters Beach there is a natural rockpool. It's great for underwater exploration in the warmer months as you can sometimes spot several marine species including turtles and rays swimming among the kelp garden.
For those with littlies, Forresters Beach has a great Play Space at Archibald Park where they can climb, slide and glide to their heart's content.
The FBI Swim & Gym at Forries is a top spot for an ego-free workout, with a Pomeranian mascot called Peatree keeping watch as you try one of its group fitness classes, free weights, personal trainers or hydrotherapy pool.
Eat & drink
The Pantry is a picturesque resort cafe as part of The Quarters establishment, where you can take a seat inside the café amidst the cute, modern décor, or sit in the courtyard and enjoy the sun poolside - try their "Love by the Pool" cocktail or specialty batch brew coffee.
The Gilded Anchor is also located at The Quarters at Forresters Beach, both a stylish cocktail bar and restaurant serving modern Pacific cuisine for sharing with friends or family.
Di Matteos, have classic brunch offerings (the crepes are worth phoning home about) and brew fresh coffee, but at dinner time they turn on the Italian flavour. With dishes like clams with white wine, chili, garlic & parsley, you'll feel how close you are dining to the sea.
Glee Coffee have a hole-in-the-window café operating on the main strip of Forresters Beach, with freshly roasted coffee, cold drinks and simple snacks available to enjoy in their sunny, roadside courtyard.
Brown Sugar Bakery serve fresh bread, cakes and pies daily with a smile, a great pit stop for your morning loaf or lunchtime takeaway.
Matt's Diner has been operating since 1951 and they mean business with their burgers! Pop in to check out the historic photos while you grab a classic burger + chips combo. To make a total Coastie experience of your day, tuck by the beach where you can eat while watching the waves, toes digging into the sand.
The Pizza Box @ Forries is a family-run foodie joint with a relaxed atmosphere serving artisan woodfired pizzas to the local community crafted from hand-stretched dough.
Shop
Drift Home and Living will have you living the coastal life in style. From homewares and fashion to bespoke vintage pieces, you are bound to leave with a treasure and plenty of design inspiration.
Sea Rose Florist is a local stop for gifts of flowers, candles and indoor plants, run by qualified florist Jenny, who arranges all bouquets with heart.
Events
Going to Gracelands is a charming event space characterised by its modern façade of white bricks and black geometric patterns. You can't miss it on the main shopping strip of Forresters! If you're keen to tour the space and consider it for your upcoming event or wedding, venue tours are available. Keep an eye out for future functions held at Gracelands, including art exhibitions and live music too.
Nearby
Forresters Beach sits between the seaside villages of Wamberal, Terrigal and Bateau Bay, offering their own collection of unique cafes, restaurants and unspoilt coastline. The small, secluded Spoon Bay is also located next to Forries, with protected bushland and rockpools to explore.
A little taste of Forresters Beach...