Virtual gallery: Prized painters of the Central Coast art scene
Add colour and inspiration to your week with our virtual "gallery", sharing a portrait of some of the Central Coast's finest creative talent.
We can't visit galleries or soak up the beauty of a local art exhibition… but we can explore the incredible work of established and emerging Central Coast artists from the comfort of our couch!
From painting wattle at golden hour, tiny native birdlife, to life size whales on walls, these local artists are masters of their craft. Read on to discover what inspires them and the value of art in their lives. Enjoy browsing their stunning online shops featuring unique prints, homewares, gifts, and made to order items available for those seeking a commission. Buying from the Central Coast's makers & creators right now is not only a brilliantly safe way to refresh your home décor (or home office) - it supports our local creatives too.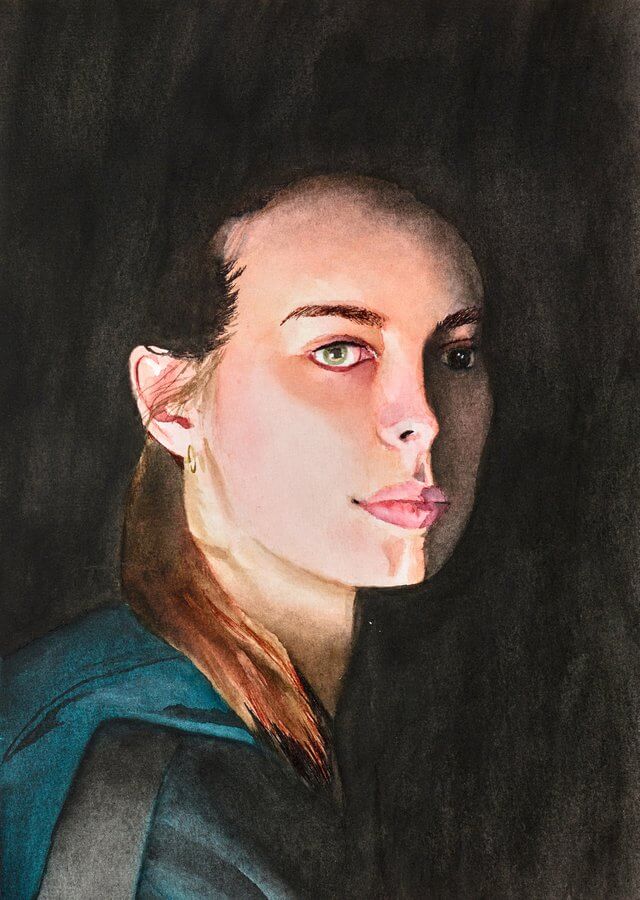 Allanah Pitcher – Young Archibald Finalist 2021
Every year Australia holds its breath as we announce the winner of the most popular and loved portrait prize in the country for 100 years, the Archibald Prize. As this year is the centenary of the award and the first time in Archibald history an equal number of male and female artists made the finalists list – we couldn't be prouder to have our very own Allanah Pitcher nominated as a Young Archibald Finalist in the 16-18 years category!
With her watercolour self portrait titled 'Unfiltered', 17-year-old Terrigal High School student Allanah was inspired by candle-lit Renaissance paintings. She wanted to create a piece like pre-digital artists would have, flaws and all, playing with the idea of perfection.
"For the Archibald, the requirement was to submit a portrait of someone important, so I decided to enter a self portrait to remind everyone that you are important."
Uniltered is currently on display at the Art Gallery of New South Wales, which you can view via a virtual visit 360-degree immersive experience from the comfort of your home until 26 September 2021.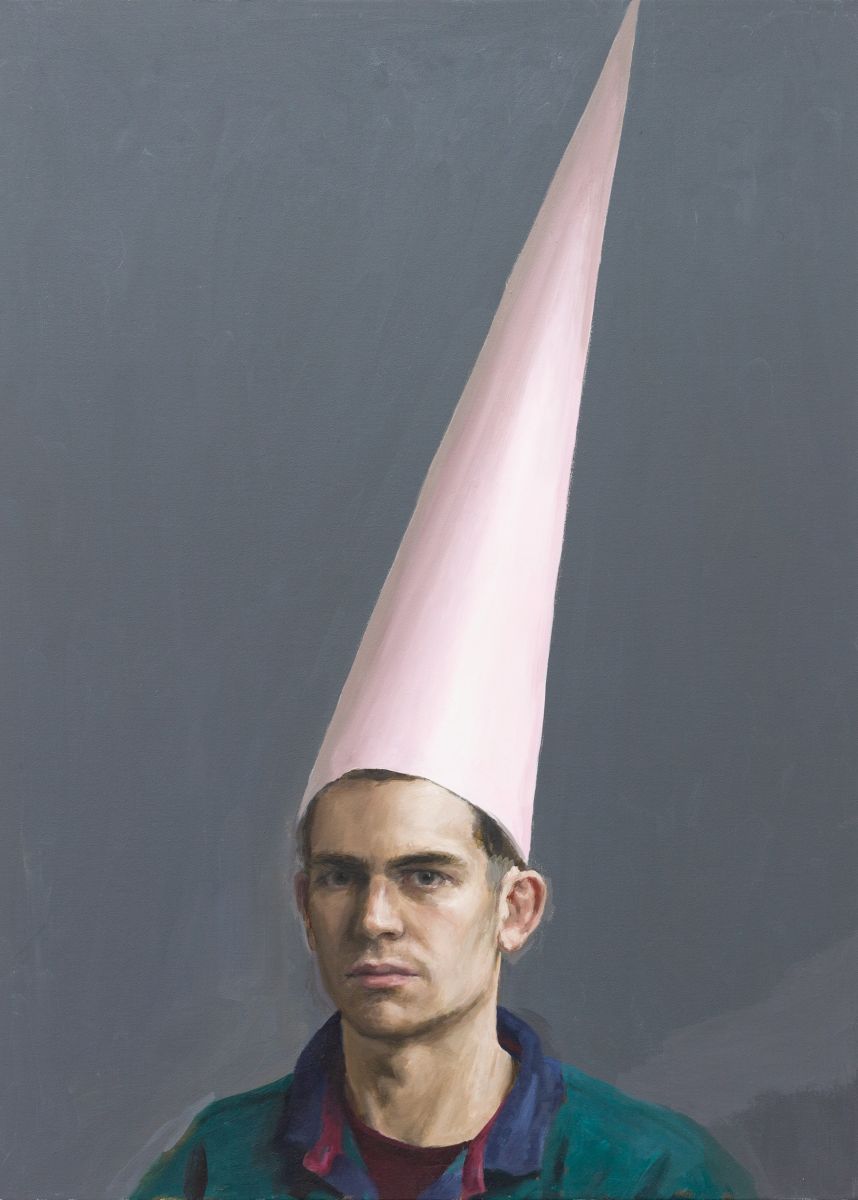 Jordan Richardson – Painter
Growing up by the Bouddi Peninsula, local Kincumber artist Jordan Richardson began his love affair with oil painting at just 15 years old. Heavily influenced by the Baroque period and a subtle infusion of humour in his pieces, he is particularly known for his portraiture, which has seen him a two-time finalist in the Brett Whiteley Travelling Art Scholarship and three-time finalist in the Archibald Prize. Graduating with Honours from the National Art School, Jordan now enjoys a long-standing tenure at Surry Hills gallery, Michael Reid Sydney, since 2016 and is on the judging panel for the Bouddi Foundation for Arts, who award grants to local artists.
"I feel incredibly fortunate to have grown up in a place with such a beautiful landscape."
Jordan's self portrait painting, 'The Dunce', has recently been nominated as a Finalist for The Lester Prize 2021, and you can view his latest artworks for sale here.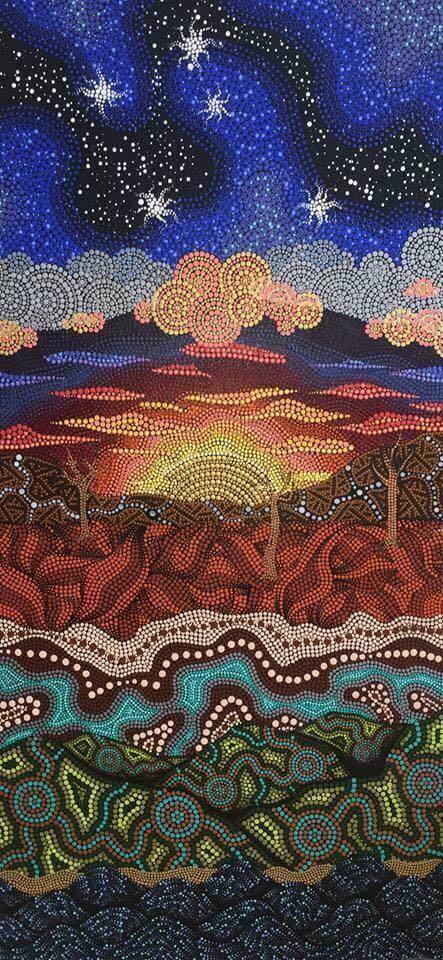 Garry Purchase – Australian Aboriginal artist
Award-winning Australian Aboriginal artist, Garry Purchase, is of proud Dharawal, Bidjigal and Dhungutti descent. Garry, who was also a drummer for Sydney rock bands, has won many awards including the first prize Tony Donovan Award in Reconciliation Exhibition at Gosford Regional Gallery (both in 2014 and 2016), as well as the Mental Health Art Works! Aboriginal Health Award in 2013, 2016, 2017, and took home the People's Choice Award in 2013. His ongoing commitment to engage with the local community through art, especially with its youth, is inspiring, and Garry hosts regular art workshops and exhibitions both in the bush and popular gallery spaces across the Coast.
"I had absolutely no idea what painting this piece [Under the Southern Cross] was going do to me.... it changed the course of my life. This piece was painted specifically for an annual Aboriginal art competition and exhibition 'Reconciliation' held at Gosford Regional Gallery… The stir that painting caused upon being unveiled to the public was mental. I wasn't an artist, just a wharfie who painted things. Not anymore. It has opened so many doors for me and given me opportunities that I never could've dreamed of."
You can view and purchase Garry's complete painting collection in canvas prints here.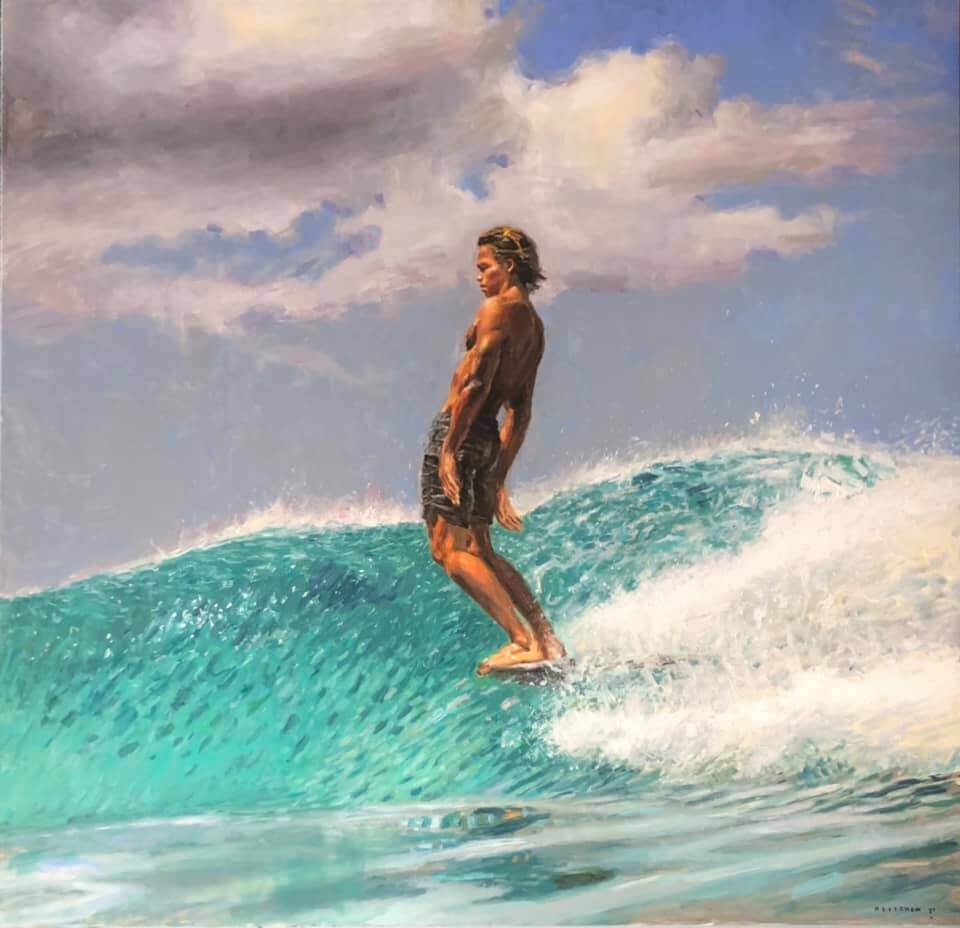 Phil Meatcham - Painter
Phil entered the Archibald Prize for the first time in 2017 and incredibly he managed to join the finalist selection with his portrait of Francis Greenslade, titled 'Ah Yeah That Guy'. He was recently a finalist in the 2021 Gallipoli Art Prize and Southern Buoy Studios portrait prize, and prior to that a finalist in the Percival Portrait Prize, the Shirley Hannan, and twice semi-finalist in the prestigious Doug Moran National Portrait Award. He's even a regular finalist in the ''Bald Archies'', a cheeky alternative to the famed Archibald.
Born in Sydney in 1958, Meatcham studied for a year at the Julian Ashton Art School. After a 40-year career as a director of television commercials, he recently took up painting full-time. His artworks show incredible talent for life-like portraiture that largely laid dormant during his TV career.
"My dream is to paint every day… A painting is a one-off original and something that lasts more than a lifetime that can be passed down through generations."
Explore Phil's stunning suite of portraiture online here, or contact him for a commission piece here (he even paints beloved pets!).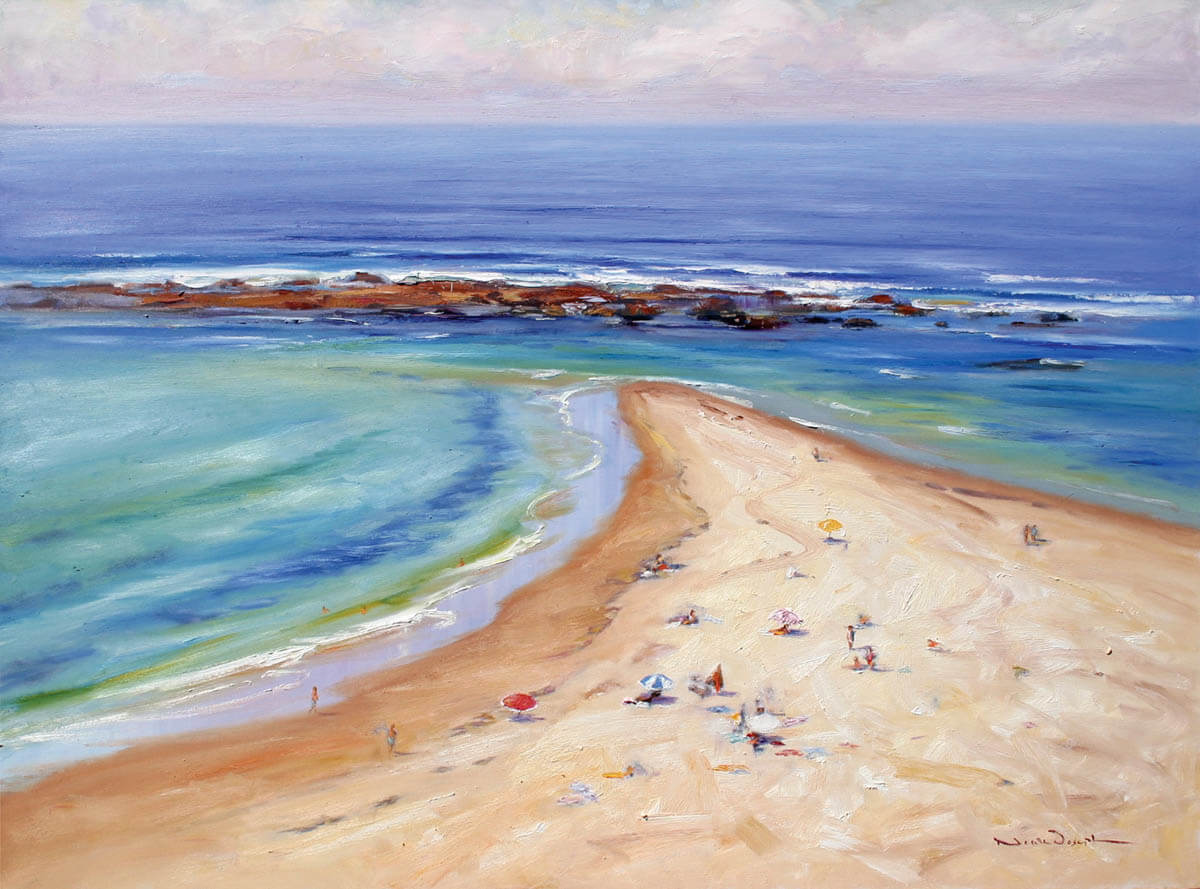 Neale Joseph – Landscape painter
Painting plein air since the 1980s, Neale is an award-winning Australian Contemporary artist who creates art from the heart. His artworks have hung alongside famous artists Arthur Boyd, Brett Whitely and John Olsen, plus won both the Veuve Clicquot and Great South Land Art Prizes. He paints a wide range of expressive abstract works all the way through to traditional, yet quite impressionistic landscapes and seascapes. His custom-made artworks are a lovely idea to highlight areas in your home or office space, with commissions available via the artist's website.
"To me art is a lifestyle, and painting is a passion. I believe it's not just observation but more it's interpretation."
Browse his stunning Central Coast collection here, and buy his limited edition art prints here, each hand signed and numbered by Neale.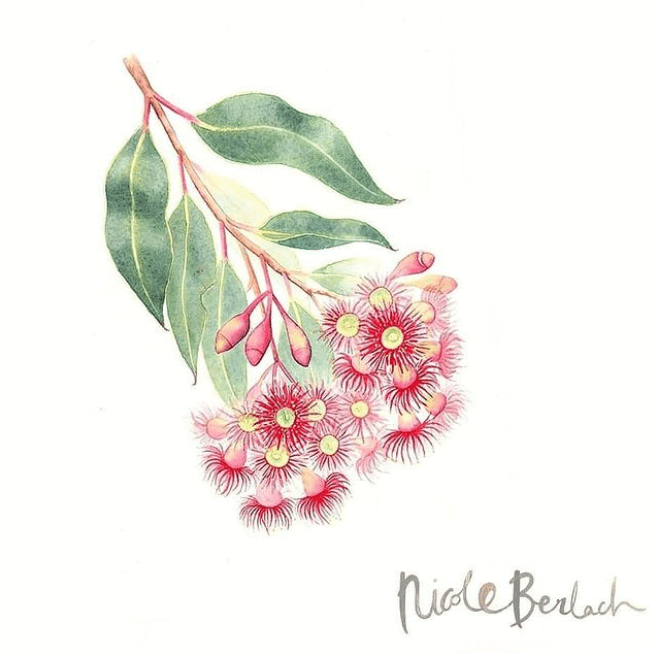 Nicole Berlach – Natural history illustrator
Nicole Berlach's talent is a scientific illustrator, graduating with a Bachelor of Natural History Illustration in 2007 from the University of Newcastle. Her work has been published worldwide – Australia, Germany, Norway, America – and can be found in the Archival Collection at the State Library of NSW. 
Nicole sells her intricate creations online as a range of art prints, linen homewares, greeting cards and journals. Her art celebrates the unique diversity of our Australian environment, and encourages people to slow down and appreciate beauty in the small things. Nicole is available for custom art projects including commissions, murals, workshops and creative collaborations.
"I love what I do - I'm so grateful to be able to share this gift. I hope my work encourages you to see the world with wider eyes; to slow down and appreciate beauty in small things... and to be grateful."
Browse Nicole's online shop for exclusive illustrated items.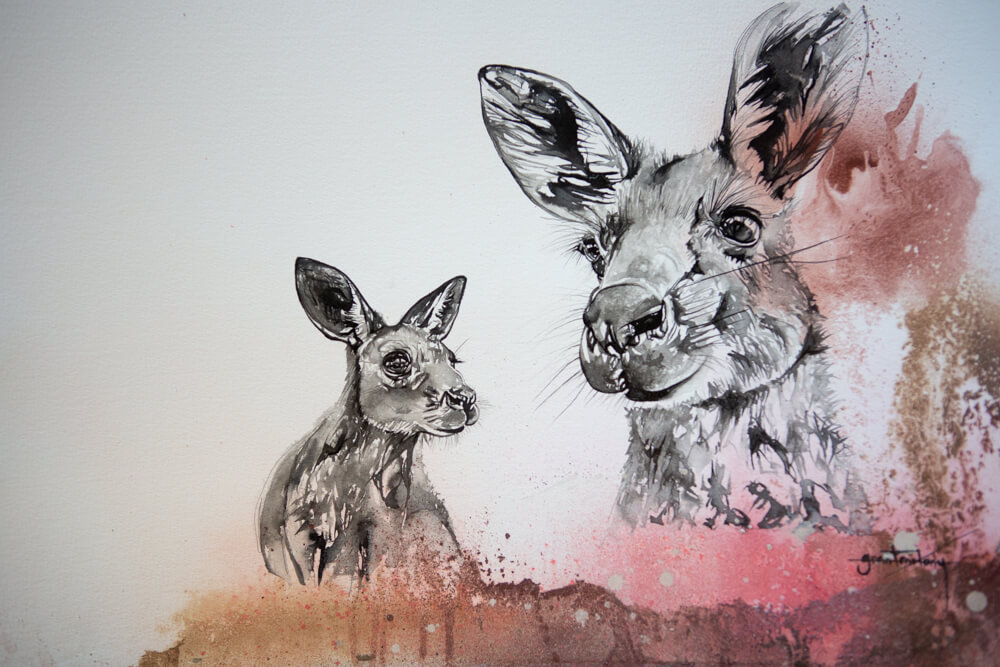 Grant Molony & Russ Molony – Community artists
Creativity runs in the family, with Central Coast brothers Grant and Russ from the Guringai community both producing their own style of artworks for public exhibition and sale. Grant has a gallery space in Long Jetty and grew up on the Central Coast and considers its natural environment and his family the biggest inspirational factors in his painting. Using ink and acrylic with hits of colour, Grant's wall art famously connects you to outdoor spaces across the region, with murals of native and marine wildlife being one of his specialties.
"I love the sea. I strive to portray connection and emotion in my art and images." – Grant Molony
Shop Grant's limited edition prints at his online shop.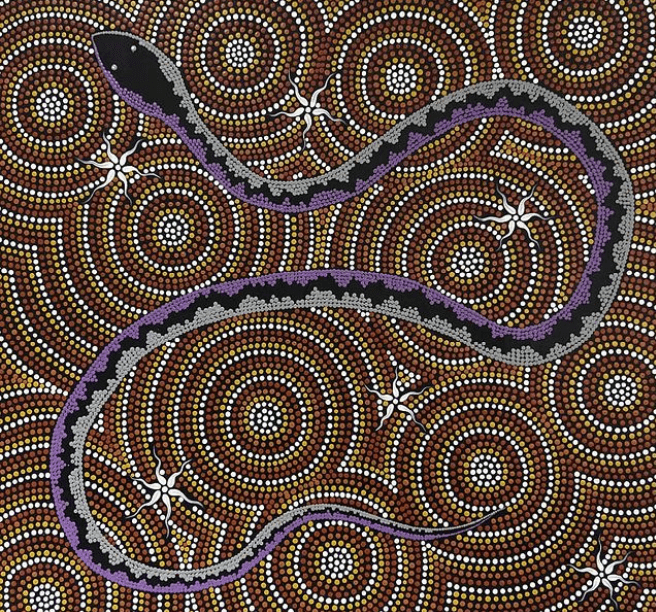 Russ Molony is a two-time Indigenous Surfing Title Champion and surf legend, who also finds time between sets and raising three kids to tell the stories of his culture and community through art, even sometimes working with his brother to create one of a kind pieces.
"It's mainly about storytelling, showing people my upbringing, sharing my culture with the world, and now more than ever, people are trying to understand what it all means." – Russ Molony
Follow Russ' latest work here.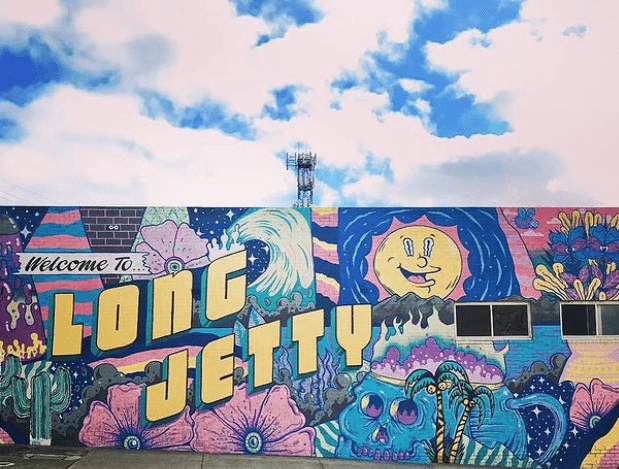 Brent Smith aka Biffy Brentano - Paint and pixel artist
You have likely walked past the famous 'Welcome to Long Jetty' mural a hundred times, stamped on the side of the Green Tangerine cafe. This is actually the handiwork of local creative talent Biffy Brentano. Headed up by Brent Smith, the focus of this creative business is on representing brands with extremely visual designs, as you can tell by the vibrant tropical colours and fantasy-like vibes of the Long Jetty wall mural. Biffy Brentano has worked for major brands include Apple, Triple J, Hurley and Red Bull, but also completed murals for local businesses including Erina Fair and Against The Tide Tattoos, and offers commissions for painting spaces in a way that brings them to vivid life in local homes.
Keep an eye out for their online store coming soon, and browse Biffy's Instagram for his latest work.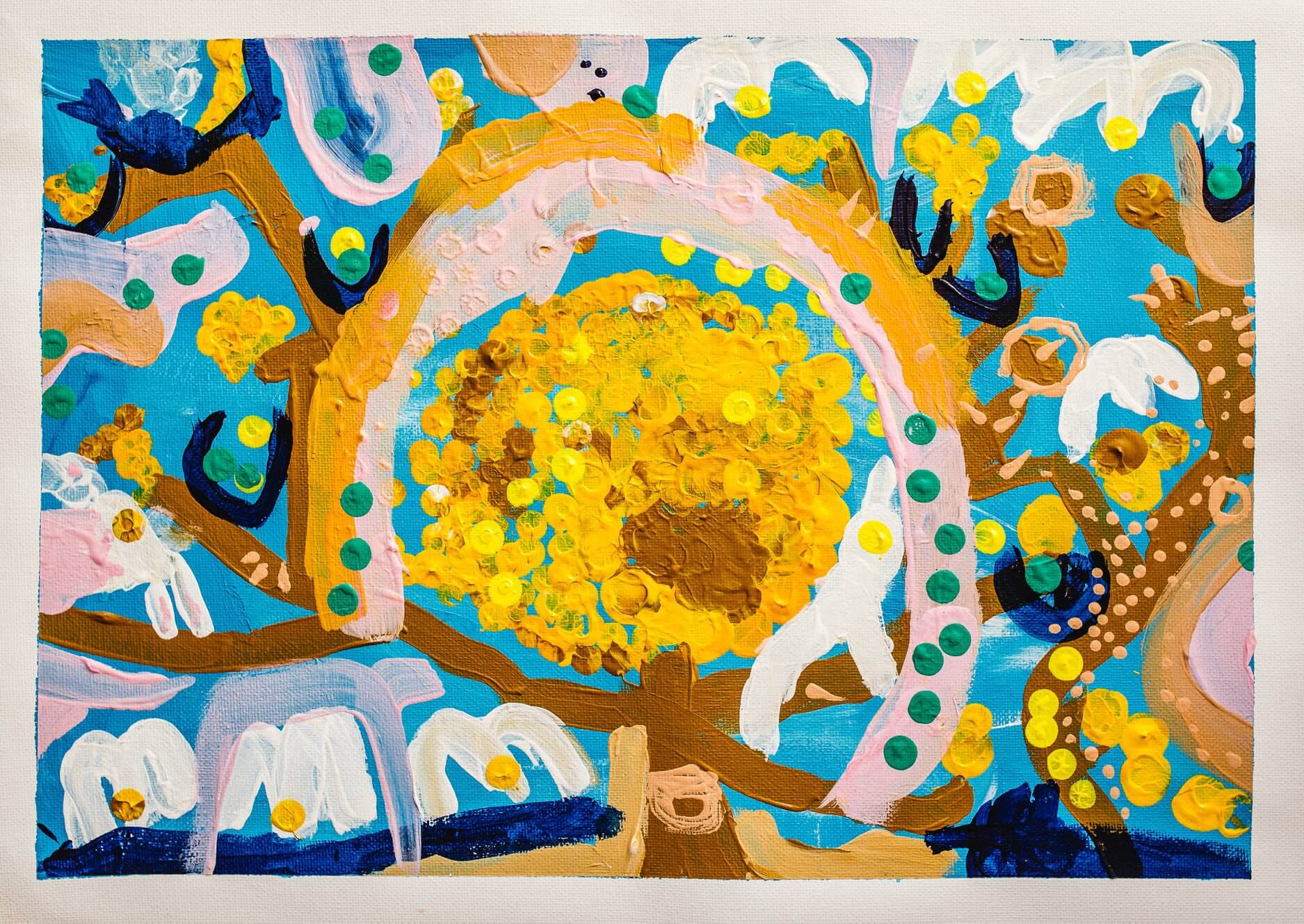 Molly Wattle Boney
We were so excited to hear a recent announcement that Ettalong's young artist, Molly Wattle, took out the under fives category with her 'Wattle & Cockatoos at Sunset' artwork at The Design Files Kids Art Awards 2021! Creativity runs naturally in this family, with both Molly's parents also talented local First Nations artists and mentors. Molly's mum is singer songwriter Tessa Thames and her dad is Brendon Boney aka The Magpie Swoop, a musician who has worked with Bangarra Dance Theatre, Sydney Theatre Company, Belvoir St Theatre, and Ilbijerri Theatre Company.
"Golden wattle and cockatoo nests at sunset is inspired by my middle name which is 'Wattle' because my birthday is on the 6th of August and this is when wattle is most golden."
Grab a made to order print of Molly's beautiful winning artwork and follow her artistic journey on Instagram here.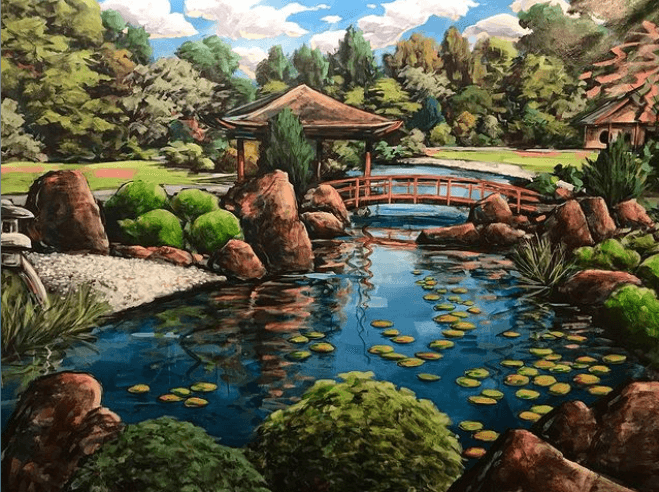 Andrew Grassi Kelaher
Exhibiting since the early 2000s in Australia, Andrew is a Central Coastie/surfer/skiier/snowboarder artist who has bagged the Finalist position six times in the Gosford Regional Art Prize, and created work for Champagne houses, ski resorts and international beer brands. He has produced snow sculptures, wall murals and textural paintings that capture attention with their soft, playful style. Andrew's art is slightly abstract, with an impressionist influence.
"I'm an artist, always have been, and still haven't grown up. I just like creating things... In summer I go surfing all the time and paint pictures of the things I think look awesome and capture my twisted attention."
You can browse and buy Andrew Grassi Kelaher art on his dedicated website.
Share the love
Do you have a favourite Central Coast artist who deserves a spotlight, or would you like to be a featured artist? Simply contact us via email, message us directly on our socials, or jump on our radar by creating a free Central Coast business or event listing here.
Don't forget – when sharing your love for local on the Central Coast, tag #LoveCentralCoast and mention us on Instagram and Facebook.