From interactive, Insta-worthy street art to shopping boutiques, gourmet marshmallows and freshly-roasted coffee, Wyong is one of the sweetest places to be this month…
We'd like to help you become better acquainted with Wyong on the Central Coast. This is a small town in the north where you can do big things. sporting a great combo of heritage meets innovation.
You can play golf at a championship course, catch live performances at The Art House, celebrate good food and company in Wyong's quality eateries, kayak down a river while spying endangered platypus, or taste some of the most creative cocktails and award-winning cheeses available this side of Sydney.
The Darkinjung people were the first inhabitants of the Wyong area, with the town's name thought to possibly be a term for a 'place of running water', or possibly a reference to an edible yam found locally. With rivers, lakes and ocean just a few minutes away, clearly the local community has always relied and thrived on its connection to the waterways.
If you haven't made your way to explore Wyong yet, this month is the perfect time to do so! We've highlighted some of the best reasons to visit right now, but this is just a snapshot. Check out the full Wyong Town Centre Guide here.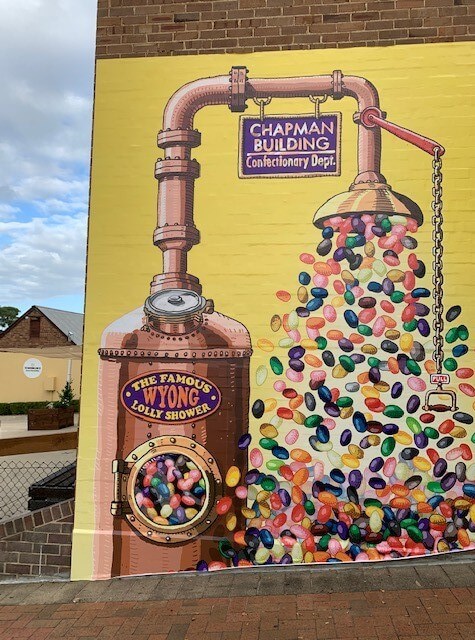 Interactive, Insta-worthy street art installations
If you're in Wyong with the family (or you're a child at heart), make sure you snap a unique pic in front of the larger than life lolly mural on the Chapman Building. You can choose to take a memorable photo as 'The Strongest Kid in Wyong', or stand under 'The Famous Wyong Lolly Shower'. And couples - well, you can do your best pose as 'The Sweetest Couple in Wyong'. Next, see if you can find the hidden Tightrope Lane in the Gallery Precinct, where a fun photo opportunity awaits – walk a tightrope over a cityscape or hop across stepping stones through a garden.
Visit Wyong from early February to early March to seek out the three engaging street art installations:
An interactive wall mural on the historic Chapman Building designed by artist, Trevor Dickinson.
A handmade bamboo love heart lantern installation dotted along the Tightrope Lane by artist Ken O'Regan.
3D optical illusion pavement artworks to snap in Tightrope Lane, the alleyway connecting Alison Rd to Bakers Lane, designed by artists Rudy Kistler and Zac Craig of Zest Events International.
The mural and love heart lantern installations will be exhibited for just a month from 10 February, while the quirky pavement artwork hidden down Tightrope Lane, in the Gallery Precinct, will remain as a permanent piece of street art. The installations are part of Central Coast Council's initiatives to contribute to the arts culture of Wyong, attract visitors, activate under-utilised spaces and add to the vibrancy of the town for the benefit of local businesses and residents.
History of the Chapman Building
If you look a little closer at the Chapman Building lolly mural, you will notice the star of it is an inspiring lady named Edna Adelle Atkins. Back in the 1940s, Edna was a lolly shop attendant in Chapman's Old Store. The mural is a tribute to her memory - you can read her pioneering story as part of the historic trail through Wyong.
The striking saw-tooth facade of the Chapman building is one of Wyong's most recognisable landmarks. It was built in 1901 and operated by William John Chapman who was both a leading pioneer of the local dairy industry and Wyong's most prominent merchant. Locally renowned for their excellent customer service and home delivery by horse-drawn cart, Chapman & Sons were, in their heyday the largest general merchants trading between Sydney and Newcastle.
Take the self-guided Wyong Heritage Walk
There is a self-guided Wyong Heritage Walk available around the town centre, with signposted stops to help you step back into the shoes of locals in the 19th century. Stop by Alison Homestead for a trip back in time, to 1825, exploring Wyong's first homestead. Housing to the Wyong District Museum and Historical Society, this historic building is a treasure trove of memorabilia, photos, furniture, household items, machinery and tools inspired by Wyong's early settlers. The museum is open Sunday through to Thursday, and the site also hosts weddings, functions and events, with a Men's Shed, plant nursery and BBQ facilities on site.
Shop the Chapman Building and Gallery Precinct
There is a great incentive to shop local and support Central Coast small businesses in this regional town centre. Whether you're a local or a visitor, simply browsing and buying from boutiques can greatly benefit local businesses and the regional economy. But enough of the important stuff, let's focus on where to get gourmet marshmallows and A-grade coffee...
Behind the historic Chapman Building, you will find Glee Coffee Roasters, with plenty of indoor and outdoor seating on the grassy courtyard. This is a great spot for grabbing your morning pick-me-up, casual business meeting, or al fresco brunch. Grab a smoothie, awesome filter coffee, or killer toastie at Duck Duck Moose, located nearby one of Wyong's hidden laneways. As for gourmet marshmallows - drop into the sweetest place in Wyong, The Marshmallow Co, to choose from more than 30 flavours of gourmet marshmallow, loaded doughnut fries, or take home a S'Mores Kit for a unique gift. 
Also within the Chapman Building, where you will discover the beautifully curated gifts and homewares of Scout and Trader, founded by Kiri with a mission to 'elevate the everyday'. Book a creative workshop at the House of Ellery, where you can make your own macramé, wreath, soy candle or floral bouquet. Boutique browsing continues at KelK located in the Gallery Precinct; a fashion store showcasing unique pieces for all kinds of women.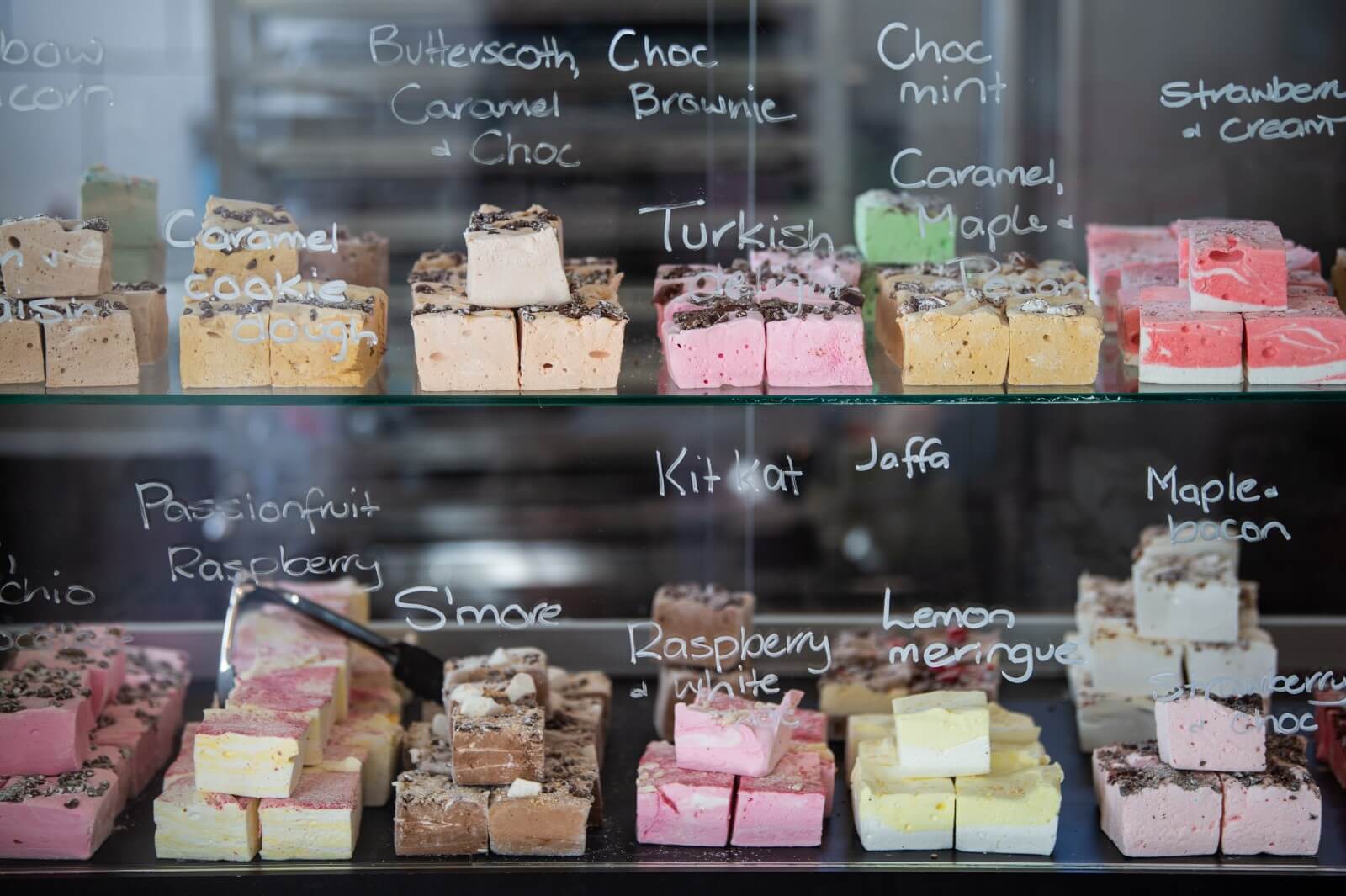 ---
Share the love
When exploring Wyong we'd love to see your photos! Share your best shots with the sweet Chapman Building mural and perspective shots of Tightrope Lane by tagging #LoveCentralCoast on Instagram and Facebook.