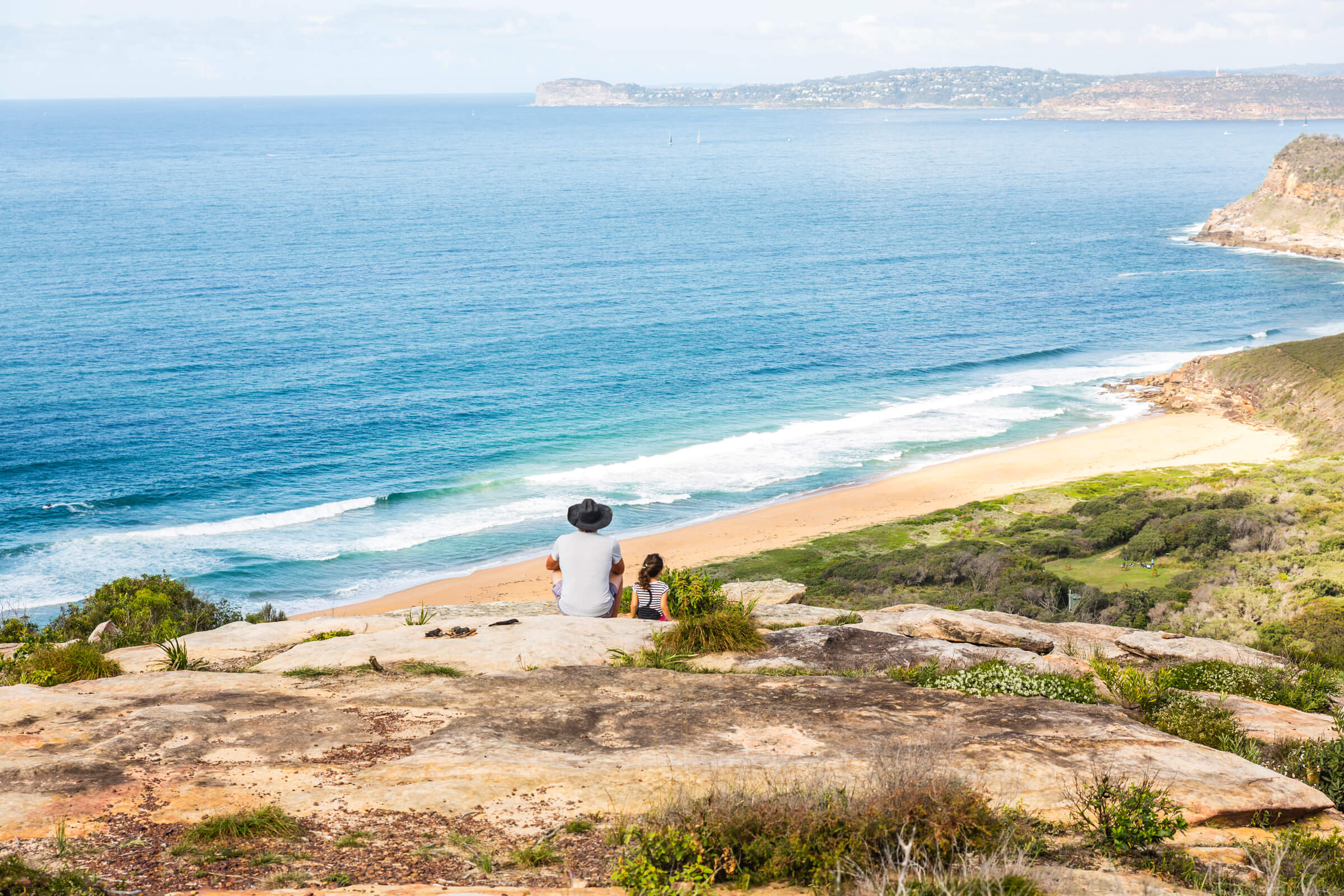 The Central Coast is now an ECO Destination but...
What exactly is "ecotourism"?
Bridging nature tourism and sustainable tourism, the definition of 'ecotourism' adopted by Ecotourism Australia is:
"Ecotourism is ecologically sustainable tourism with a primary focus on experiencing natural areas that fosters environmental and cultural understanding, appreciation and conservation."
How much nature actually is there on the Central Coast?
Within its total land area of 1,680km2, more than 50% of the Central Coast is national park, state forest, bushland, open space, nature reserves, beaches and waterways. This includes some of New South Wales' most popular nature-inspired experiences like Bouddi Coastal Walk, Ourimbah State Forest, Somersby Falls and the World Heritage Listed Convict Trail in Dharug National Park.
What is an ECO Destination?
A certified ECO Destination like the Central Coast has actively demonstrated its strong, well-managed commitment to sustainable practices and provides high-quality nature-based tourism experiences to tourists and locals within the region. ECO Destination Certification follows international guidance and best practice from the Green Destinations Standard. It's for a region with a clearly defined boundary, such as the Central Coast LGA.
Certification requires one organisation, like the local council or local tourism organisation, to be responsible for the management of the certification, however, it assesses the entire region's tourism destination management practices community-wide. We want to ensure we are looking after our destination so that you can continue to live and work in this incredible place. As we have learnt through our ECO Destination journey – a good place to visit is a good place to live.
Why has the Central Coast pursued ECO Destination certification?
To protect the Coast's natural beauty for future generations, a destination-wide approach to sustainable management and responsible tourism is needed. In September 2020, a positive partnership blossomed between the Central Coast and Ecotourism Australia, supported by two-years' funding from WWF-Australia's Wildlife & Nature Recovery Fund to pursue ECO Destination Certification. Following the 2019-20 bushfire season, this progressive program is designed to help affected destinations like the Central Coast build back better, as a vibrant, resilient and sustainable tourism destination by using ECO Destination certification as a guide.
Is it important to be an "ECO Destination"?
The Central Coast is proud to be an ECO Destination, certified by Ecotourism Australia. We welcome travellers to immerse themselves in our community connected by culture and place. This means that our destination management organisations are dedicated to developing sustainably, treading lightly on the natural environment, and recognise their role in preserving the oldest living culture in the world. ECO Destination Certification is led by globally recognised Green Destination standard that certifies sustainable destination management practices, champions giving back to the community and ensures cultural authenticity.
What organisation leads the ECO Destination program?
ECO Destination Certification is managed and awarded by Ecotourism Australia, following the completion of all mandatory criteria and a successful independent site audit of the destination. The ECO Destination program is recognised internationally by the Global Sustainable Tourism Council (GSTC) through Green Destinations, an organisation designed to help travellers make conscious choices and invest their valuable travel money in sustainable businesses, environmentally-friendly activities and support cultural tourism.
Who is Ecotourism Australia?
Ecotourism Australia, established in 1991, is a not for profit, membership-based organisation inspiring environmentally sustainable and culturally responsible tourism. Internationally recognised through the Global Sustainable Tourism Council, they design and deliver certification programs for tourism products and destinations, assuring travellers that these are backed by a strong commitment to sustainability and quality. Currently representing more than 500 responsible ecotourism operators, 1,700 products and a growing number of destinations, Ecotourism Australia also represents the interests of ecotourism operators and destinations through membership on advisory boards, reference groups and industry bodies, working with diverse industry stakeholders to implement and reward sustainable tourism practices. These include operators, protected area managers, state/federal government agencies, local/regional tourism associations, consultants, planners, academics, students and travellers.
What is the Green Destination Standard?
Ecotourism Australia's ECO Destination Certification program is an Australian-developed program designed for the Australian context. The program combines Ecotourism Australia's ecotourism criteria with the Green Destination Standard for sustainable tourism.
The Green Destinations (GD) Standard is accredited by the peak international sustainable tourism certification body, the Global Sustainable Tourism Council (GSTC). The Green Destinations Standard assesses the sustainability practices of the destination in environmental, social and economic sustainability, and covers these 6 Themes:
Destination Management
Nature & Scenery
Environment & Climate
Culture & Tradition
Social Wellbeing
Business & Hospitality
Ecotourism
What does it mean for the Central Coast as a destination to be ECO Certified?
Achieving ECO Destination Certification recognises the Central Coast as a world-class destination for sustainable, nature-based tourism. It highlights the Central Coast's commitment to quality and sustainable practices, which many of our businesses share at the core of their operations. It also gives conscious travellers a clearer choice of the best eco-friendly, nature-based experiences, attractions and accommodation the Central Coast has to offer.
What does an ECO Destination mean for locals?
Living in our ECO Destination means you are a leader in protecting our community and continuously putting measures in place to improve responsible destination management. Successfully becoming an ECO Destination is a huge achievement for the Central Coast, and one our community should feel immensely proud of! One of the most attractive things about being an ECO dot on the map of Australia is seeing the immense benefits it brings to the local community over time. This includes seeing more eco-conscious, sustainably-minded businesses opening up shop, more sustainable employment and training opportunities, greater liveability and improved wellbeing. Essentially, if you live in an ECO Destination this indicates you're living in a place that cares for its people, their culture, and the environment around them.
What does an ECO Destination mean for guests to the Central Coast?
Immersing yourself in an ECO Destination means taking action to be a responsible traveller for a sustainable future, and to travel for good. If you're visiting the Central Coast, you're visiting a destination steeped in opportunities to connect with nature, culture and the local community to enhance your trip. Expect a destination that is managed sustainably and provides self-guided nature and cultural experiences. With more travellers demanding authentic, unique, environmentally sustainable experiences, the Central Coast is ready to rise to this request with its vast natural beauty, rich cultural heritage and local sustainability initiatives! For a snapshot of the range of eco-friendly experiences, attractions, and accommodation the Central Coast has to offer explore our Ecotourism hub and the Green Travel Guide.
What does an ECO Destination mean for local businesses?
Nature-based businesses can pursue ECO Certification for their business too! The Central Coast is leading the way in this area with the largest regional cohort of ECO Certified and seeking ECO Certification businesses on the ECO program. There are currently six ECO certified operators on the Central Coast and nine embarking on their Ecotourism Certification journey – we'd love to see more! To see how your business can benefit from the Central Coast's ECO Destination status, visit our Eco hub for business or take the Quick ECO Scan to see if you're eligible.
I don't want more visitors to the region, so why does certification matter?
ECO Destination Certification does not encourage overtourism in a destination – it invites quality visitors who will care for and respect the community, local Aboriginal cultures, and the natural environment. We now treat our visitors as our invited "guests", who must treat our region with care in return, and who leave our region in a better place than when they arrived.
How many ECO Destinations are there?
In 2022, the Central Coast was the third ECO Destination to be certified in Australia, and only the second in the whole of New South Wales! Certified Australian ECO Destinations are part of a national collective of destination managers who want to focus on sustainable tourism to better their local industry, community and the environment. ECO Destinations leading the way alongside the Central Coast include Port Douglas Daintree in Queensland, Coffs Harbour in New South Wales, Augusta Margaret River in Western Australia, Bundaberg in Queensland and Blue Mountains in New South Wales.
How can the entire destination claim to be sustainable?
Sustainability is a journey, not an end goal. Sustainability is also everyone's responsibility. So it's not so much about certifying a destination as a one-size-fits-all solution, but more about the journey and the ongoing positive change it creates. The Central Coast has been on its ECO Destination journey since September 2020 and will continue on this path in partnership with Ecotourism Australia into the future. As one of the first few ECO Certified Destinations in Australia, our destination can claim to follow best practice guidance on sustainable destination management and ultimately we're taking progressive steps to grow sustainability at a local level – and that is something everyone can get involved with.
This destination isn't perfect... How can they be certified?
Our ECO Destination Certification means that we are committed to meeting best practice processes and procedures to grow sustainable and ecotourism offerings in our region. Our certification includes plans, policies, strategies, and initial steps taken toward building a strong foundation for responsible destination management. Through regular auditing, Ecotourism Australia's independent auditors will assess our continued commitment to sustainability and may leave recommendations for our region to address.
Is this just another form of greenwashing?
Far from it. The very purpose of pursuing ECO Destination Certification with a respected organisation like Ecotourism Australia, who work closely with Green Destinations, is to ensure the Central Coast is a destination guided by world leading best practices in sustainable tourism and sustainable destination management. For example, to even be considered for ECO Certification destinations complete 80% of Green Destination Standard criteria, and then independently audited by an external consultant on site. Independent onsite auditing then occurs every two to four years to ensure the quality of ECO Destinations maintains this global standard!