What's new on the Central Coast this summer
There are so many shiny, new places to explore on the NSW Central Coast this summer! Right now, our region is ready to show you a good time...
We're all craving a summer filled with low-key adventure and a high enjoyment factor, and the Central Coast region is seriously stepping up its game! Despite the rollercoaster year we've just emerged from, a wave of exciting, new things to do have popped up across the Coast, with businesses ready to tackle 2021 with the same creative energy the community is known for.
From a Safari-themed eatery, to exciting new brunch and cocktail stops, a unique 'meet the maker' trail, art in the wild and breakfast with alpacas, there's definitely something new for you to do this month on the Coast.
Many local businesses have revitalised their existing offering, announced the grand opening of a new venture, and launched on the Central Coast in recent months - and you're now in the best place to tour through the freshest of the fresh...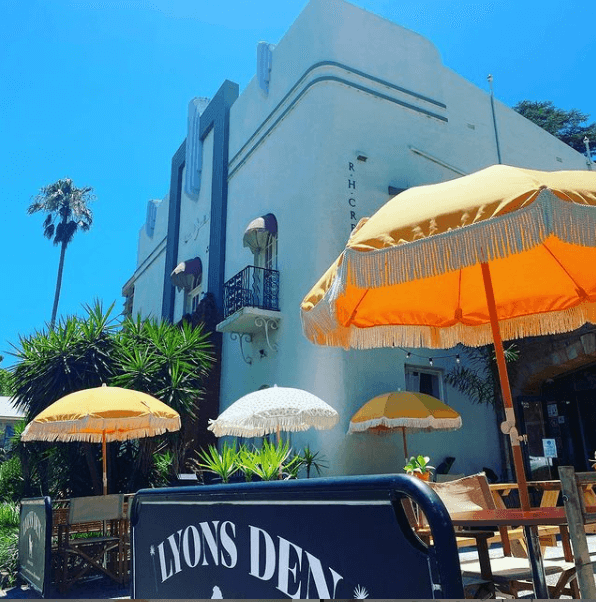 New places to eat & drink on the Central Coast
New local waterhole at Lyons Den, Gosford
This new African-inspired bar and eatery Lyons Den, known as 'The Den', opened in the heart of Gosford this summer. Expect a range of South African meats and punchy cocktails, served with a wild vibe created by well-known interior stylist, Xanthe Highfield and safari-style mural by artist Leigh Kaplan (who returned to the Coast from New York during Covid). The bar and restaurant will be open for lunch and dinner seven days a week.
Introducing Terrigal Beach House at Crowne Plaza
Crowne Plaza Terrigal Pacific recently enjoyed a makeover of its popular seafront Florida Beach Bar, to its new personality as Terrigal Beach House. Still right on the seaside. Still ripe for afternoon cocktails, but with a fresh new look and modern seafood menu.
The Beachie at Toukley gets a makeover
Fondly referred to by locals as 'The Beachie', this popular venue is re-launching this summer with a complete redevelopment. In its prime waterfront location, the Beachcomber hotel boasts the Central Coast's largest beer garden, with an anticipated fresh Hamptons-style new look.
Social Junction fuels Avoca Beach
A fresh, quality coffee-focused cafe launched in the heart of Avoca Beach at the tail end of 2020. With its rotating menu of single origin coffee beans served in house, this place makes a great spot for a pick me up before catching a few waves at the local beach, or the perfect catchup location with a mate, perched in front of the wall mural featuring model / S.J barista. 
The Lavender Goat opens in Charmhaven
Launching in November, the team of 'Lavender Goats' are bringing charming (and healthy) cafe vibes to their local community. T.L.G are championing this via classic brunchy items like an eggs benny done three ways, and goatmade additions such as Chocolate Peanut Butter Brownie Bowls, topped off with raw notella balls. 
Sundae Sesh brings unicorns to Umina
If you love ice cream, the freshly opened Sundae Sesh parlour needs to sit at the top of your summer 'must visit' list. Run by a local family, this new spot serves sundaes such as the Cereal Killer Sundae featuring Froot Loops, and the 'Netflix & Chill' Sundae starring popcorn and fluffy marshmallows. But you can't go past their signature Unicorn Bowls, packed with healthy antioxidants for the kiddies disguised as a superb ice cream treat!
Feel better at Inner Glow Kiosk, Ettalong
Along Ocean View Road you may be accustomed to seeing new shops pop up at Galleria Ettalong, but a stone's throw away is a pretty little health food kiosk filled with Inner Glow Goodness plant-based treats. Inner Glow Kiosk is now serving incredibly colourful, delicious fresh-pressed juices and foodie bowls to the community, such as their Green guru elixir bowl and weekly summer-inspired salads.
Cali-cool at the new Shady Palms, Avoca
'Tropical and eclectic' sum up new Avoca restaurant Shady Palms, which launched in November 2020 (taking over the former Bombini garden restaurant and pizzeria). Pick a spot in their lush garden by the oyster and champagne 'shack', by the outdoor undercover woodfire pizza oven, or in the cottage for a more classic dining experience. As for the menu, expect seafood, poke bowls and yakitori.
Guac' n roll at Mexicoast, Toukley
There's a noticable rise in the amount of places to fetch a tasty taco on the Central Coast. One of the latest businesses specialising in Mexican bites is the cleverly named Mexicoast Cantina, based at Toukley, in the region's north. This place is quickly gaining a local following, with the 'Coronita Margarita' being one of their more unique menu items...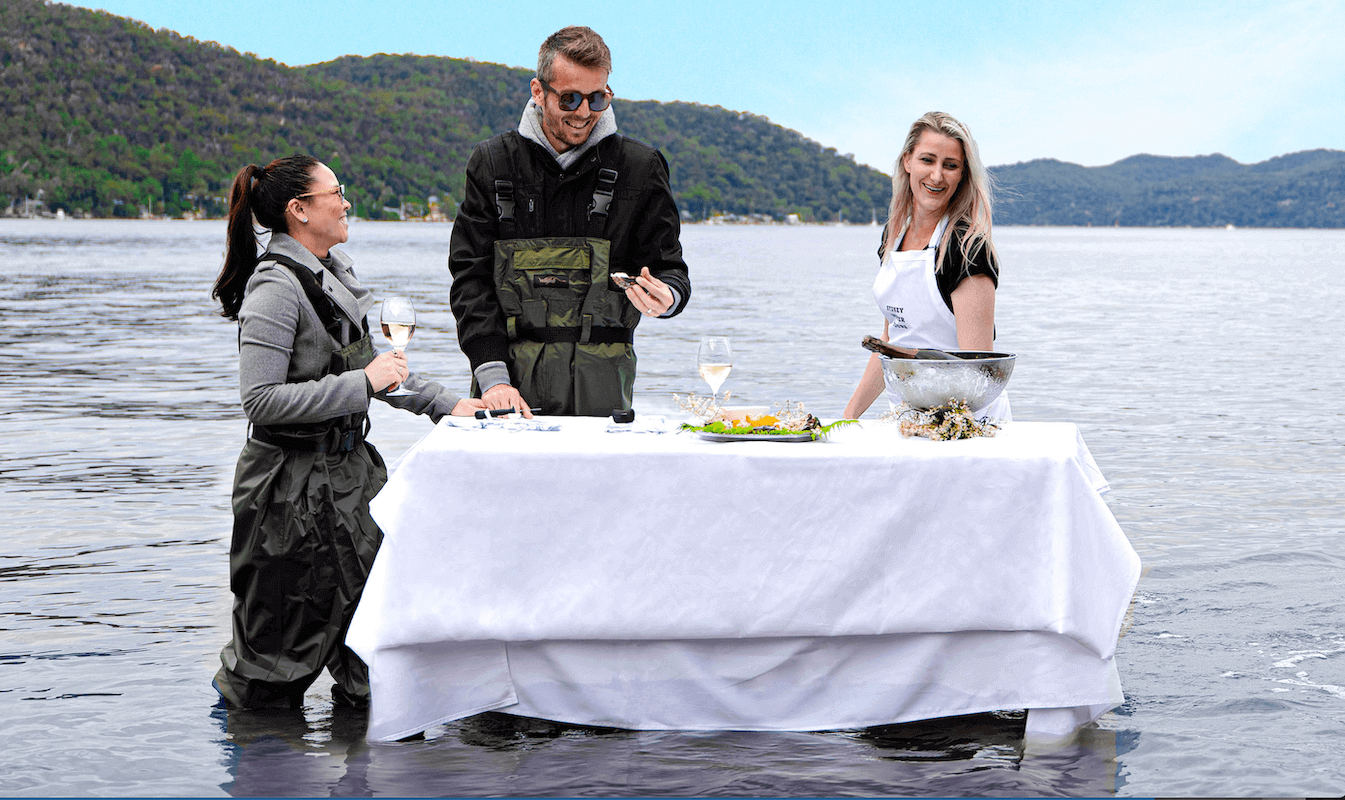 New Central Coast experiences to try
Learn to shuck an oyster and sample river-fresh
For an authentic aquatic farm experience, Mooney Mooney Oyster Farm Tours guide people through the fascinating day to day operation of Broken Bay oyster farms. Visitors get to meet second and third generation oyster farmers, plus learn to shuck and taste the famous Broken Bay Oysters straight from the river.
Dine at the best restaurant in the state winner – The Bon Pavilion
Sean Connolly's restaurant in the heart of Gosford, The Bon Pavilion, recently won the gold for 'NSW Regional & ACT, Contemporary Australian Restaurant – Informal' at the Restaurant & Catering Hostplus Awards 2020. Book in whenever suits you from breakfast to dinner, Wednesday to Sunday. New weekly events include the 'Girls Days Out' lunches and check when their next Bottomless Brunch is for a bit of fun...
Hinterland breakfast with alpacas
If you're an avid traveller, you've likely heard of breakfast with orangutans and giraffe… but what about with alpacas? This fun, family-friendly experience takes place every weekend (and every day during school holidays) at Iris Lodge Alpacas, a working farm in Jilliby in the Central Coast hinterland. Expect to be greeted by a hungry alpaca, and meet and feed other animals before then enjoying your own relaxed farmyard brunch. Feel a million miles from the big city life, just 1.5hrs north of Sydney.
Dream Wild art workshops, Australia Walkabout Wildlife Park
Walkabout Wildlife Park in Calga are hosting 'Dream Wild' & 'Dream Sky' art and wildlife workshops with Indigenous artist Garry Purchase throughout Jan to June 2021. Available for kids or adults, these art workshops will be uniquely set among Australian native bush on the working wildlife sanctuary's grounds, with the added opportunity to meet resident, free-roaming wallabies and kangaroo. Garry, a Dharawal/Dunghutti Australian Aboriginal artist, is best known for his modern take on Aboriginal art portraying his personal stories. He'll teach you the tricks to perfecting your own artworks in this special experience hosted on Aboriginal Heritage listed land of the Central Coast. Reserve your spot on a workshop today.
Paddle and Pearls kayaking tour
Just one of the new tours hosted by Elixir Journeys. Luxury travellers will love their curated selection of tailor-made, small-group tours designed to show you the best of nature, food and wine on the Central Coast. Highlights include a 'Paddle and Pearls' kayak tour to a pearling shed, a 'Sailing Safari with Seafood Lunch', a 'Sundowner Stroll Nature Tour' with a sunset picnic in the beautiful Bouddi National Park.
Travel back to the Jurassic at the Australian Reptile Park
Enjoy a family-friendly Jurassic Zoo experience on the Coast. The mighty roar of Tyrannosaurus Rex and the snapping jaws of the Raptor will be on show at the Australian Reptile Park daily throughout the summer school holidays. There will also be the many native Australian animals on show too, such as the amazing Elvis the crocodile, Tassie devils, and the incredibly prehistoric-looking cassowary.
Take a slow mo' at Slowwell, Ettalong Beach
There's a rising trend for slow living and slow travel emerging, with 2020 dealing us plenty of time to take stock of what matters and enjoy the small things. Launching near The Galleria at Ettalong during Covid-19, Slowwell is part coffee seller, part lifestyle store, bringing city style to the Central Coast's Peninsula community. Their calming shop space is somewhere you can go to peruse wellbeing, travel and lifestyle books while you wait for an artfully made slow-drip coffee and chin-wag with likeminded folk.
Summer spotlight on Long Jetty
As the very definition of 'cool' and 'chill' on the Coast, Long Jetty continues to impress throughout the testing year we've endured with its constantly growing choice of quirky café's, art hubs and shopping boutiques characteristic of a mini Newtown-on-the-Sea…
Opening just before Covid-19 hit and having to take its classes online, this art workshop space is now welcoming groups back again for summer. Classes include art therapy, paint and sip sessions, school holiday programs and regular exhibits from local artists.
A new, bright and boutique coffee-house has opened a few doors down from the main intersection of Long Jetty, serving Glee Coffee beans and a fresh, friendly vibe complete with plenty of seating, indoors and out.
A Latin American groove has hit Long Jetty, with this foodie spot fast becoming known for its Taco Tuesday nights. Fun, casual, and tasty tacos to go.
Authentic Japanese dining has arrived in Long Jetty, much to the joy of relocated Sydneysiders living in this neighbourhood and missing Asian cuisine from the city. Must try dishes include eggplant with sweet miso sauce and their house-made gyozas.
A stunning place to find and create unique gifts has launched on Long Jetty's colourful high street. This 'floral fun house' sports a beautiful range of blooms, wreaths, posies and other pretty things. It's also a top spot to pick up regarded local artist, Grant Molony's General Admission Printshop limited edition cards. Only 100 are produced per print cycle, destined to become collector items.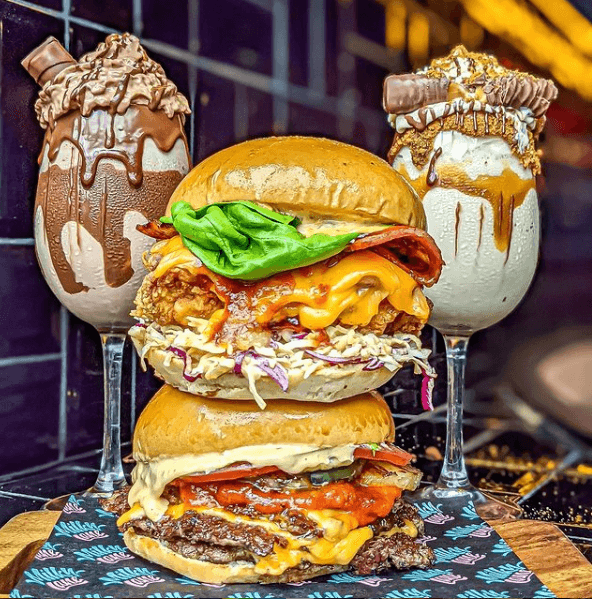 Summer spotlight on Terrigal
Much more than a summer playground, the seaside village of Terrigal is suddenly bursting with new businesses designed for the sweet tooths among us. Visit for the treats, stay for its regular offering of beach, boutiques, cafés, markets, ice cream parlours, hotels, bars and fine dining, all dotted along the bustling central Esplanade.
If you know of Milky Lane, the fact it's opened its doors on the Central Coast is a big (huge) deal. This means Cheesus and Bacon Bits are now around the corner! The highly Instagrammable boutique burger and milkshake joint officially arrived in Terrigal this January, and locals are already frothing over its offering. 
Expect more than your average lamington at blossoming Central Coast pastry house, Bouffant, which is now based at Gosford and Terrigal. Row upon row of neatly lined up pastries greet you and prove hard to resist, making Bouffant the perfect pastry wonderland to pick up sweet treats - including the classic croissant, plus house-made breads and pies.
The home of pumped-up, treat-laden smoothie bowls, Bowlarama has now launched at Terrigal, the newest location for its fresh and fruity parlour of goodness. Stores also opened up in Kincumber and Long Jetty earlier in 2020, so now wherever you are on the Coast there's probably a Bowlarama pitstop nearby.
This is the ideal place to stop on the Terrigal Esplanade for your New Year health kick. Enjoy colourful smoothie bowls and shakes, vegan soups, tacos and burgers all served with a healthy smile. If your spending the day at the beach, this is a refreshing spot for refueling between swims. 
The Central Coast's ONLY source of mouth-watering New York style cookies! You'll also find freshly made brownies, scones and sundaes all oozing with delicious caramel sauce, biscuit crumbs or melted marshmallow. These guys are the creators of the incredible cookie layer cake, a centre piece for birthdays and special celebrations.
On Campbell Crescent you can now enjoy a taste of authentic Tuscany, with handmade pasta cooked fresh to order after 4pm every day. Husband and wife team, Matteo and Laura, originally launched Il Toscano as a food delivery service during Covid-19, but the Terrigal based pasta bar is now flourishing in its new seaside location. For the full Italian experience, dine in at their streetside tables with a glass of vino rosso. 
Over the hill in Terrigal Haven, you will find The Skillion, a coastal dog park, and a beautiful bay for snorkelling... and now a freshly refurbished local sports bar! Trojans Restaurant & Sports Bar is part of Terrigal Rugby Club's complete renovation, and overlooks the Haven's green sports field, offering tasty pub grub and a family-friendly atmosphere.
Where bacon-covered and crème brulee-filled donuts are standard. Following its grand opening in July 2020 at Wyong Milk Factory, Daily Dough Co. now serve up their sweet collection of fresh 'hole foods' at Terrigal too. Don't sleep in though – their freshly baked daily selection is only available until sold out!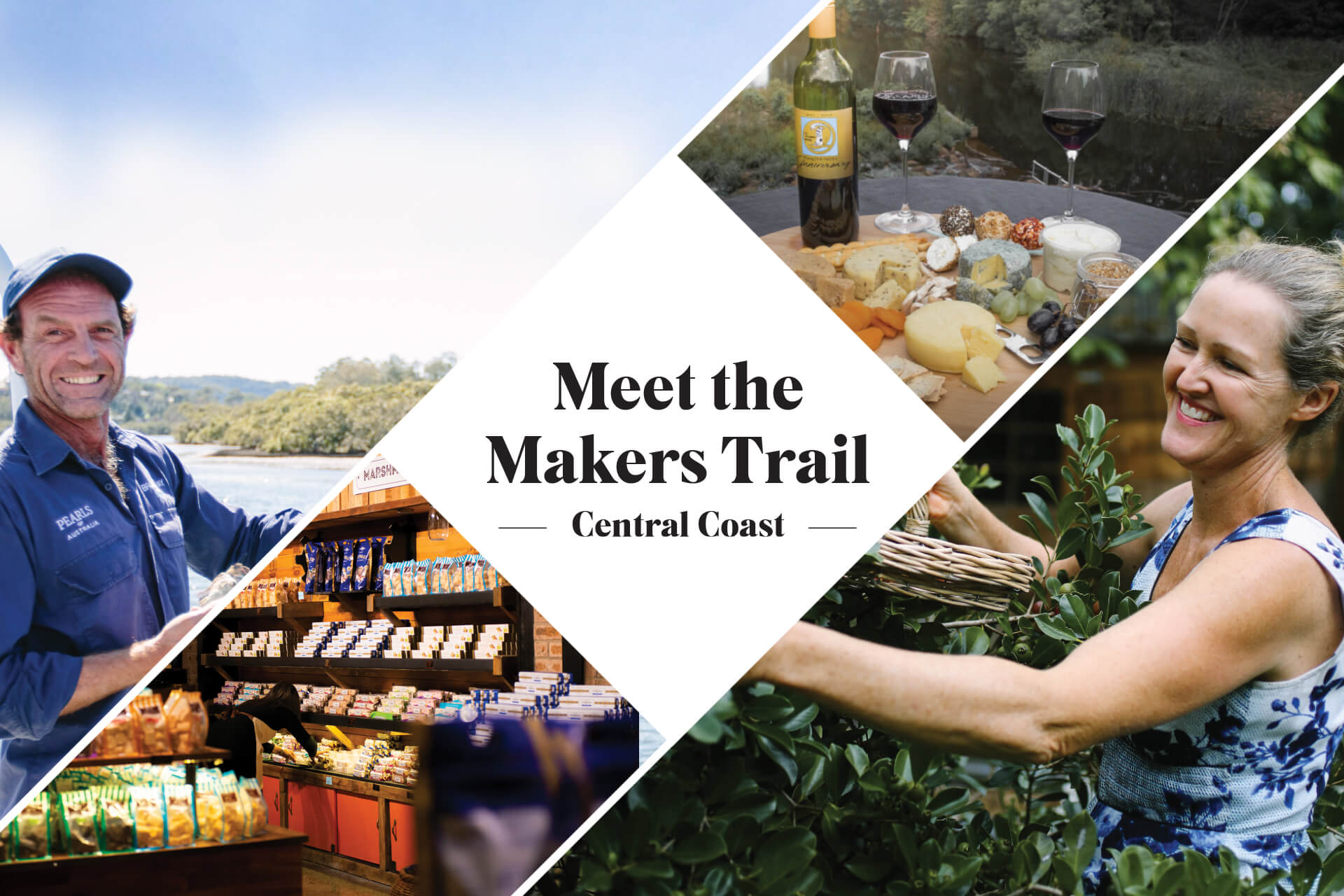 Meet the Makers Trail
From coast to hinterland, a string of Central Coast makers have teamed up to offer a truly unique Meet the Makers Trail that connects you directly to the work of several local producers. The trail includes the tastings, tipples and a variety of guided tours, intimate hands-on workshops and exclusive events. Download the brochure to plan your self guided trail trip.
Meet the Maker Trail includes:
Broken Bay Pearl Farm, Pearls of Australia, Mooney Mooney
Start your journey at Mooney Mooney – the southern gateway to the Central Coast – stopping in at their new Shellar Door set right on the stunning Hawkesbury River. Take to the water on a hosted tour to experience NSW's only pearl farm and spend time with third-generation pearl farmers who harvest the precious, local Akoya pearls. Love a souvenir? You can buy beautiful pearl jewellery on-site directly from their grading room.
Little Creek Cheese, Wyong Milk Factory
Meet the family behind Little Creek's multi award-winning, hand-crafted cheeses, with flavour bombs including Aussie bush fetta, fig and walnut cheddar and gin infused cheese. With their factory headquarters and tasting room housed at the historic Wyong Milk Factory, you can make a day of it by booking a place on one of their tasty cheesemaking workshops.
The Chocolate & Nougat Factory, West Gosford
An immersive confectionary wonderland exists in West Gosford, (just minutes off the M1 exit) which was originally housed in Sydney's grand Strand Arcade. The Chocolate & Nougat Factory is the home of Nougat Limar, Bon Bon Fine Chocolate and The Sydney Marshmallow Co., and as part of the Meet the Maker trail you can book a factory tour and tasting, with Junior Chocolatier Workshops for the little ones.
Firescreek Winery, Holgate
In the agricultural hub of Holgate, you can sample Firescreek Winery's botanical fruit and flower wines at the cellar door, or for a more in-depth experience book in for a Meet the Winemaker tour. If you have the day to explore, try their chocolate and wine experience for two (great for a relaxed romantic gesture!), or their two newest experiences:
​---
Share the love
Got a fresh suggestion or want to see your local business featured? Jump on our radar by creating a free Central Coast business listing here.
Don't forget – when sharing your own holiday adventures on the Central Coast, tag #LoveCentralCoast and mention us on Instagram and Facebook.